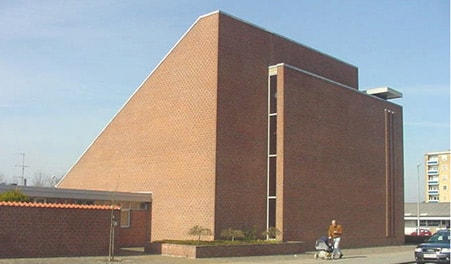 Skt. Andreas Kirke
St Andreas the Apostle gave the name to the church as Peder and Andreas were brothers and as St. Andreas parish was separated from St. Peder's parish. According to tradition, Andreas was executed on a lying cross. Consequently, the so-called Andreas cross is often used in connection with the church. The architect was Holger Jensen who is known for many other church buildings.

The church was consecrated on August 15 1971. In 2000, a extension was built in the western end. The building consists of a tall wall facing east and an inclined roof with three rows of low windows facing west. Facing south, there is a small window from floor to ceiling. This part of the building contains the interior of the church itself. The remaining parts of the building have a flat roof and contain parish rooms, "porch", confirmand rooms, offices, etc. In the middle of the building, there is an open atrium with glass sections. The church is built of red bricks that are visible both outside and inside. A small bell tower contains the 2 bells that are made in England at the world's oldest bell foundry.

The baptismal font is a very beautiful and very old granite font which has been stored in the basement at Kulturhistorisk Museum (The Museum of Cultural History) in Randers. Nobody knows exactly how old it is but the font has found its place in St. Andreas' Church where it reminds the congregation that the Christian church has lived in the Danish people for many centuries.