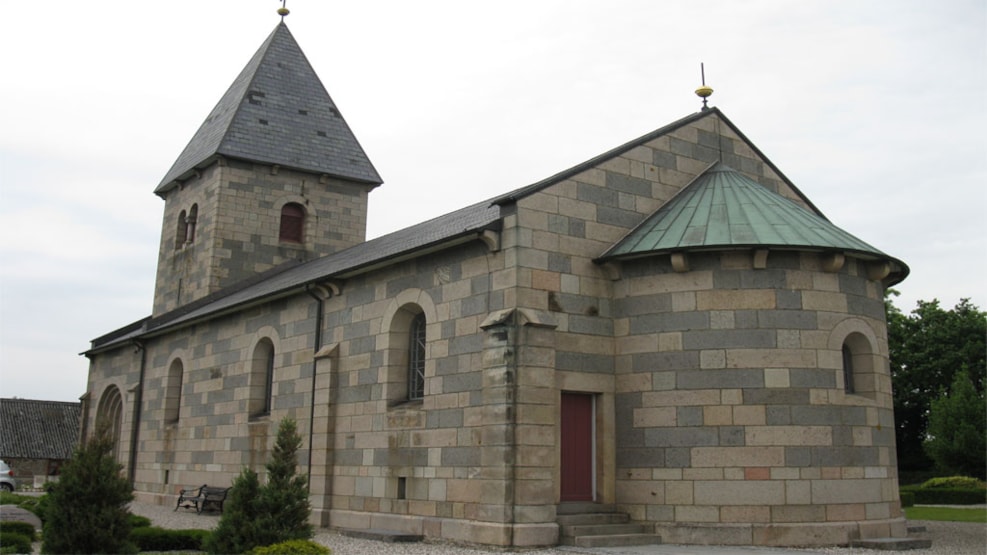 Skørring Church
As the church in Karlby has its predecessor, so does Skørring church.
In the church porch stands a stone with a carved cross. Previously, the stone lay at the south-west corner of the church, but in recent times has been moved to its present place. The stone is dated to the 12th century and appears as a Romanesque stone with a Greek cross in round relief.
It has not been possible to trace any inscription, but in connection with various source material, everything indicates that the stone was set over Virgo Gunder, a noble virgin who has had her time in the area partly at Skørring, and partly at the Ørsted region by the estate Stenalt.
Some parts of the old church as door and window overlays can be found in the present, but particularly noteworthy is the church's baptismal font, a Romanesque granite font with double lions, an impressive example of animalistic stonemason art.
Skørring's present church was built in the years 1886 - 1887, built of Bornholm granite with Viborg Cathedral as an example.

Open 8-16