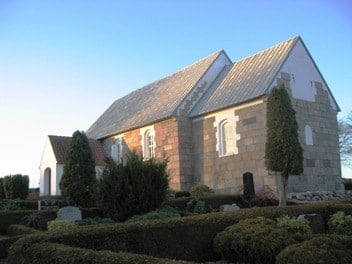 Skader Church
Skader Kirke is a 12th-century Romanesque village church - without a tower or unnecessary decorations of any kind.
In the course of time, they have tried to make the church more "fashionable". Thus, the church's east end was at one time equipped with Gothic combs, but after the National Museum's restoration in 1935 the church regained its original shape.
The original church porch is considered to have been built in the 15th century, the same period as most armaments were erected. It was erected in half-timbered houses, but the quality has evidently been poor because in 1870 it had to be replaced by a new one, which evidently has not been a solid building either, for in 1951 it was replaced by the present porch - built in yellow now chalked bricks.
The key can be borrowed. See notice at the church.