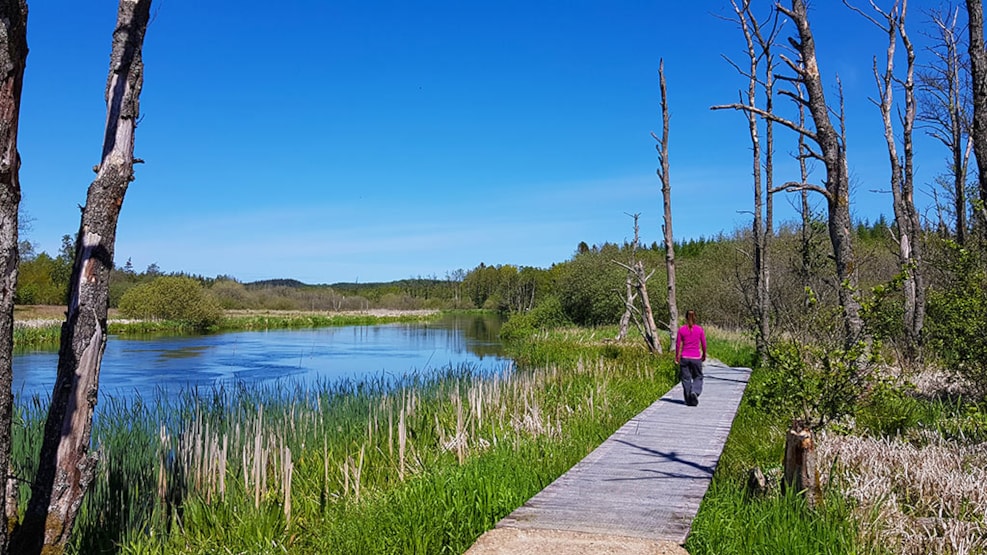 Self-guided walking and cycling holidays with Wild Rover Travel
Wild Rover Travel arranges self-guided walking and cycling holidays. When you book a trip with Wild Rover Travel, the package includes comfortable accommodation with breakfast, as well as detailed route descriptions, maps, and GPS tracks. You therefore have all of the navigational tools you will need to find your way without the need for a guide.
Wild Rover Travel will also transport your luggage between hotels along the route, so you only need to carry a light day pack. The self-guided concept allows for great flexibility – you are free to start whenever you want, choose your own travel companions and go at whatever pace suits you.
Self-guided walking holidays around Silkeborg
In the Aarhus region, Wild Rover Travel offers eight self-guided walking holidays and one cycling holiday. Several of the trips are centered around Silkeborg – the charming capital of the Danish lake district. This includes The Himmelbjerg Route (4 days), which is one of the most beautiful hiking routes in Denmark. It takes you through deep forests, past shimmering lakes (remember your swimming gear!) and to the top of Denmark's most famous 'mountain' Himmelbjerget (The Sky Mountain). You will stay in three of the area's very best hotels, all featuring gourmet restaurants.
If you prefer a trip with shorter daily stages, then The Towpath (4 days) is a good option. On this trip you follow Gudenåen – Denmark's longest river – from Silkeborg to the town of Bjerringbro, staying in charming, traditional inns. If you can't choose between these, or simply want a slightly longer trip in the area, then Hiking Denmark's Lake District (6 days) might be the trip for you. Here the two popular routes have been combined into one hiking holiday.
Historical hiking on Denmark's Camino
If you are looking for a pilgrimage route which combines hiking and heritage, you should consider Hærvejen (9 days), which is also known as the Danish Camino. Estimated to have been in use as early as 4,000 years ago, it is Denmark's most famous and established hiking route. Accommodation is in charming inns and B&Bs along the way.
You can also choose a combination of Hærvejen and The Towpath on Jutland's Heritage Trail (7 days).
Self-guided cycling in Jutland
If you prefer to cover a greater area than what is possible by foot, a cycling holiday might be more your thing. On the trip Cycling in East Jutland (6 days), you will discover the beauty and heritage of the Eastern part of Jutland, following the cycling route of Hærvejen, as well as a disused railway line which was once known as 'Denmark's most beautiful railway'. You will stay in comfortable hotels in historic towns as well as in a charming lakeside B&B.
See what others are sharing on Instagram