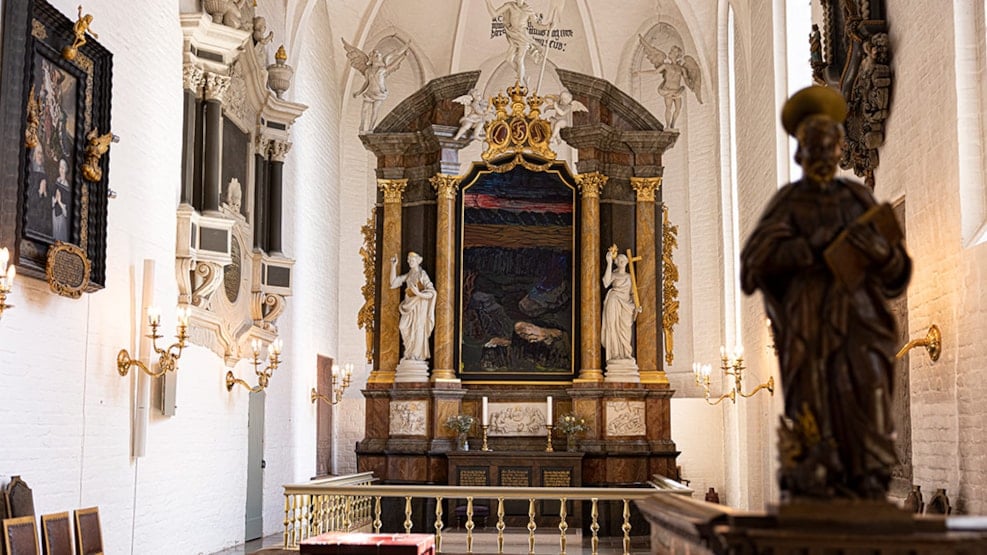 Sct. Morten's Church - A stop on the Star Route through Randers
Sct. Morten's Church is the oldest church in Randers and the only one among the city's five medieval churches that still stands. The current church is 500 years old, but there has been a church at the same location for over 700 years.
The Merciful Morten
The church is dedicated to Sct. Morten, who is the patron saint of mercy towards the poor in society and, therefore, was one of the most popular saintly figures of the Middle Ages.
Inside the church, there is also a modern altarpiece by Per Kirkeby. The painting was inaugurated in 2004 and depicts Good Friday in the Garden of Gethsemane.
Gothic Market Town Church
Sct. Morten's Church is a large and unusually beautiful Gothic market town church with many exquisite carvings inside. Both its size and magnificent design indicate that Randers was a wealthy and important market town in the Middle Ages. There have been many additions to the church over the years - the tower with its characteristic onion spire was added 200 years ago, in the 1990s the tower was updated with an automatic carillon, and most recently in 2004, the church received a new, modern altarpiece.
The church is open to visitors during the daytime. Notice the many streets around Sct. Morten's Church named after it - Kirkegade (Church Street), St. Kirkestræde (St. Church Alley), Lille Kirkestræde (Little Church Alley), Vester Kirkestræde (West Church Alley), Kirketorvet (Church Square), and Sct. Mortens Gade (St. Morten's Street).
Gravestones on the walls
Names are inscribed on the walls of Sct. Morten's Church. In the past, people were buried inside the church, but after it was prohibited, people were buried as close to the church as possible. The cemetery was located around the church, and the names on the walls served as a kind of gravestone. The cemetery was closed down in 1812.
Sct. Morten's Church was associated with the Monastery of the Holy Spirit and was actually one of the monastery's wings, where the House of the Holy Spirit was another.
The church is open for visitors in the daytime.
See what others are sharing on Instagram