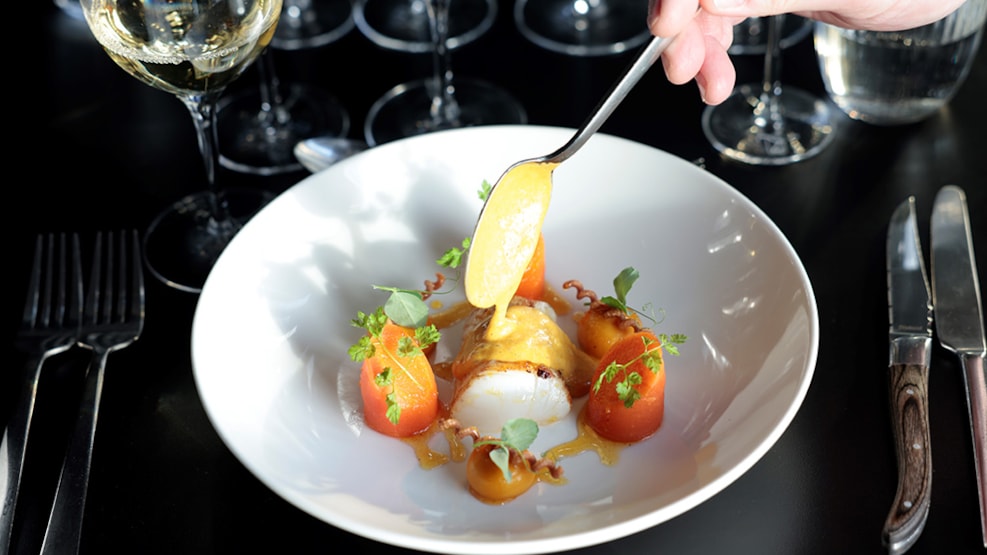 Restaurant Det Glade Vanvid
Sit down to a spectacular dinner in Det Glade Vanvid Pakkerivej and get ready for an all-inclusive gourmet event in an informal setting where you will want for nothing.
All inclusive gastronomy at silly prices
The restaurant waiters will use their knowledge and experience to guide you carefully through three hours entirely devoted to gratifying your taste buds. An appetizer and a three-course meal will be served at the atmospheric tables, from where you can easily reach the restaurant's wine buffet with seven choice wines, freshly baked bread, and a variety of oils lined up to challenge and spoil your taste buds – as much as you feel like, of course.

Your delightful meal will be served in a charming, minimalist-style setting which lets you enjoy fully the delicious foods, and the calm and beautiful view over the Aarhus Marina.
Major culinary experiences - minor prices
Exceptional culinary experiences need not be expensive, and dining at the Koch Brothers' charming restaurant is in fact priced from an incredible DKK 499 for the full menu. "But that's as crazy as it gets!" a local fisherman burst out when he heard this price, and that's actually how Det Glade Vanvid Pakkerivej (As Crazy as it Gets) got its name.
See what others are sharing on Instagram