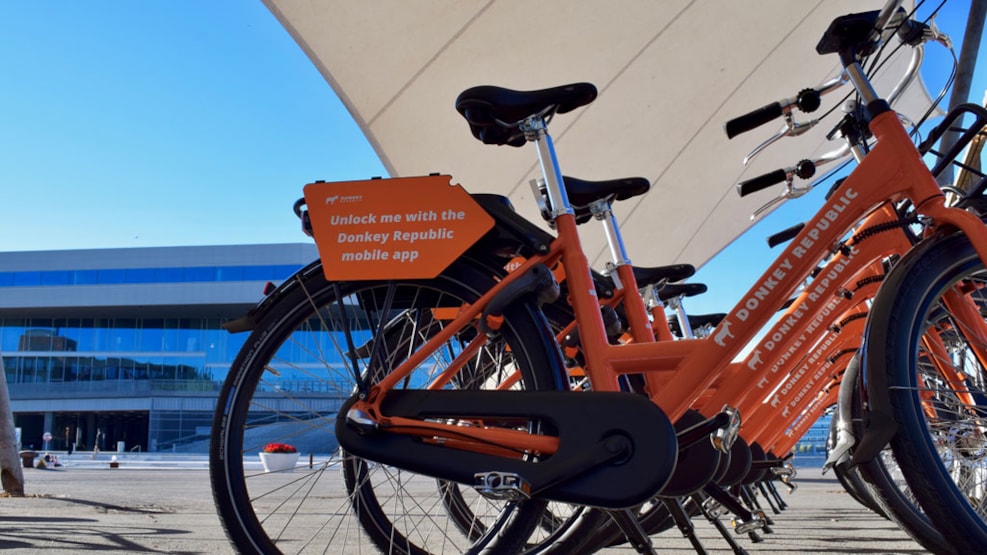 Rent a bike with Donkey Republic
Donkey Republic is the official bike-share provider of Aarhus and the easiest way to rent a bike in the city. Get access to the orange city bikes with your phone through the Donkey Republic app, 24/7.
No internet connection is required
No internet connection is required, no docking stations, no cash, no ID cards or deposits, no rental shop staff or opening hours. All you need is a smart phone. 
How to rent the city bike
- Download the Donkey Republic app to iPhone or Android 
- Find a bike nearby, rent and unlock it with your phone.
- Ride, make stops and lock and unlock as much as you like.
- To end your rental, return the bike to one of the many drop-off locations shown in the app.
Explore Aarhus on a bike
Once you get your bike unlocked you are ready to go and all set to explore culture, art and history in Aarhus. Enjoy delicious Nordic cuisine and canalside hang-outs. Take your Donkey Bike in Aarhus to some of the beautiful parks, enjoy a strong coffee in one of the hippest cafes or simply get lost on your rental bike in Aarhus. If you are new in the city check out the the top attractions in Aarhus or explore some of the neighbourhoods.
Who are Donkey Republic? 
Donkey Republic is a Danish bike-sharing startup. They believe that cycling is the most authentic way to see a city, giving you the freedom to explore at your own pace and to discover every hidden street or corner in a healthy, sustainable and fun way. Just look for the orange city bikes all over town.
See what others are sharing on Instagram