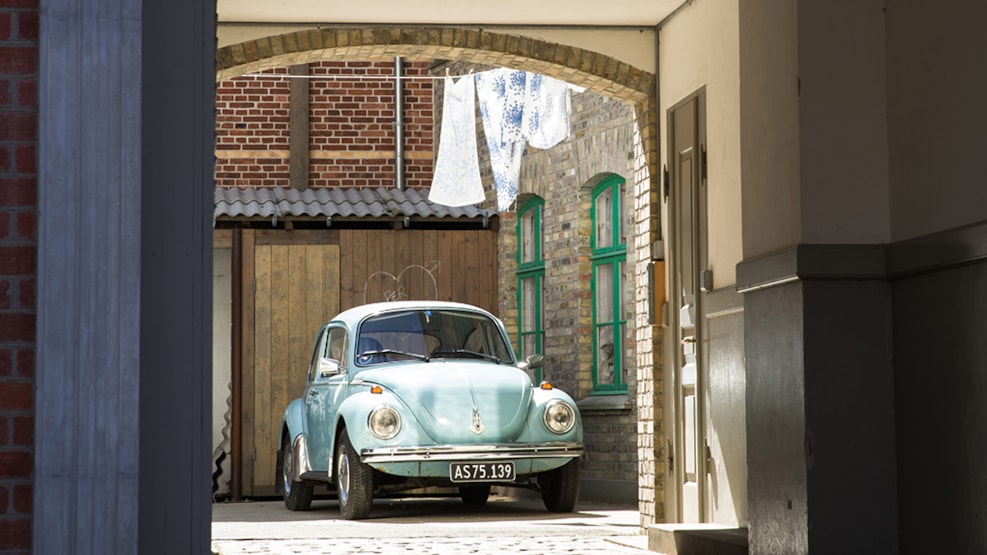 Remember the 1970s
Do you remember 1970s? Experience an entire neighbourhood from 1974 in Den Gamle By, The Old Town Museum. You can visit six different homes, a pastry shop, a radio and TV shop and a gynaecologist's clinic. Visit the Danes not-so-distant past, or step into the lives of their parents and grandparents.
Hey, your Mum's exhibited at the museum!
...And if you can't find her, here in the seventies' town district, and latest addition to, The Old Town Museum (Den Gamle By), then at least you can see and experience for yourself what the times were like when she was young. 
You can check out what her hairdo was like, the clothes she wore, which skin creams she could buy, and many other things. And how did they really live then?
Take your family along, and get your mum and dad to tell you and your brother(s) or sister(s) all about what it was like to live in the seventies. About toys, bicycles, idols, cars, and basically anything else you would like to know.
You can even get to taste the cakes they used to eat then. Because there is also a genuine tearoom in the neighbourhood.
In 1974 Denmark is
- an affluent society after years of steady economic growth
- a new member of the EEC
- a country just beginning to feel the effects of the oil crisis
The Tårnborg corner building
In the 1974 town district you can visit Tårnborg, which is a corner building housing three flats, where you can drop in on the nuclear family, the commune, the school headmaster living on his own, and 70s shops. Don't forget to drop by the radio shop with hot music of the time sounding from the speakers, or the tearoom where you can taste their wonderfully delicious goose breasts.
The harbour-front House in Havnegade
A visit to the house on the harbour front in Havnegade will provide some of the same atmosphere that many Danes will remember from the popular 70s TV comedy series 'Huset på Christianshavn' (The House in Christianshavn).

In the building there are 6 flats where you get an insight into private homes, workshops, and backyards. And do also visit the Bent J jazz bar where you can feel the authentic atmosphere in this former local pub.
See what others are sharing on Instagram
#dengamleby #visitaarhus #visitaarhusregion
CHILDREN UNDER 18 YEARS: FREE ADMISSION