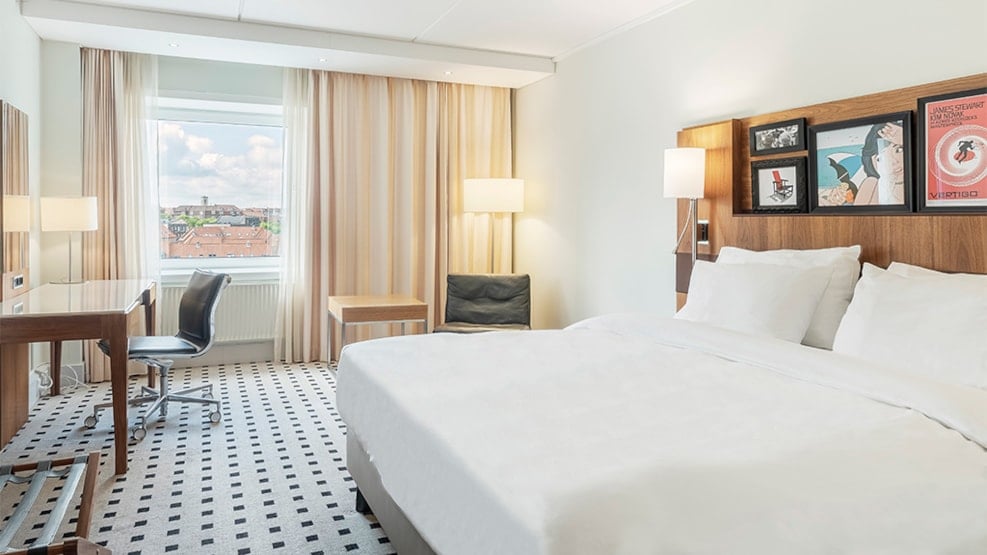 Green Experience
Radisson Blu Scandinavia Hotel, Aarhus
Discover the 4-star Radisson Blu Scandinavia Hotel, Aarhus, perfectly placed in the heart of the city, making it the ideal choice for business and leisure travelers alike.
The 234 stylish and well-equipped rooms and suites showcase contemporary themes such as New York Mansion, Natural Cool, and Urban, providing an elevated experience for you. Modern amenities like a mini-bar and free high-speed, wireless Internet access are available in every room, ensuring a comfortable and connected stay.
Indulge in Nordic culinary delights at the RAA Nordic Brasserie & Bar or wrap up your day at the Fitness World center. For those with work to do, the business center offers the perfect space to focus and be productive.
Close to the attractions
Explore Aarhus' gems, including the City Hall, ARoS Aarhus Art Museum, Den Gamle By — the an open-air Old Town Museum — or catch a performance at the Concert Hall. All these attractions are just a stone's throw away from the hotel. Conveniently located near the central train station and bus stops, you'll have easy access to Denmark's other renowned destinations.
Savor the Essence of Nordic Cuisine
Immerse yourself in exquisite flavors at RAA Nordic Brasserie & Bar, which celebrates the simplicity and diversity of Nordic cuisine in a beautiful setting designed by Wingårdhs world-renowned studio. The team of professional foodies welcome you with fresh, local ingredients, while the passionate bartenders, among the city's best, mix sophisticated drinks to quench your thirst.
See what others are sharing on Instagram