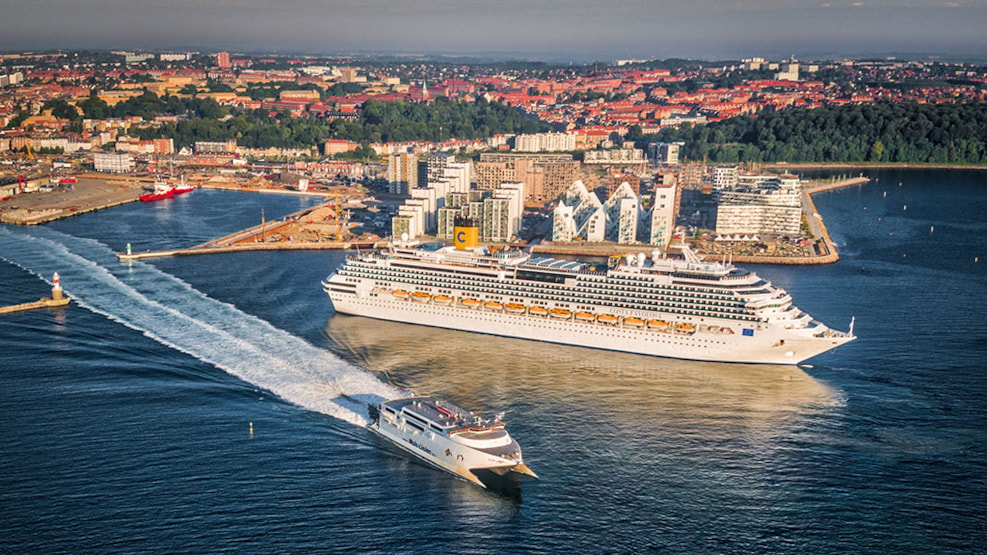 Port of Aarhus
The Port of Aarhus is one of Northern Europe's biggest ports. With a total quay length of 8.8 km, 5.3 km pier, and 2.5 mio m2 basin, the world's largest container ships call at our port.
Pleasure cruise ship visiting Port of Aarhus
When arriving in Aarhus by pleasure cruiser, you are calling at a port which not only played a critical role in the founding of the city all the way back in the Viking Era, but has also grown into the largest container-handling port in Denmark today – by far. In fact it handles more than 50 per cent of all containers arriving in Denmark.
In addition to being a highly active container-handling port, the Port of Aarhus is also home to some 150 private companies which, between them, employ thousands of people.
Architecture and urban environment
However, the harbour area in Aarhus is not only used for commercial purposes. A brand new city quarter is under construction, with modern architecture in marked contrast to the industrial harbour section. Within the next few years approximately 7,000 people will be occupying the new buildings, and some 12,000 additional jobs will be created within the Aarhus harbour area.
The new vibrating centre of the Aarhus port area is the impressive 'Dokk1' Mediaspace, which is home to institutions such as the city's Main Library and Citizens' Services centre.
See what others are sharing on Instagram