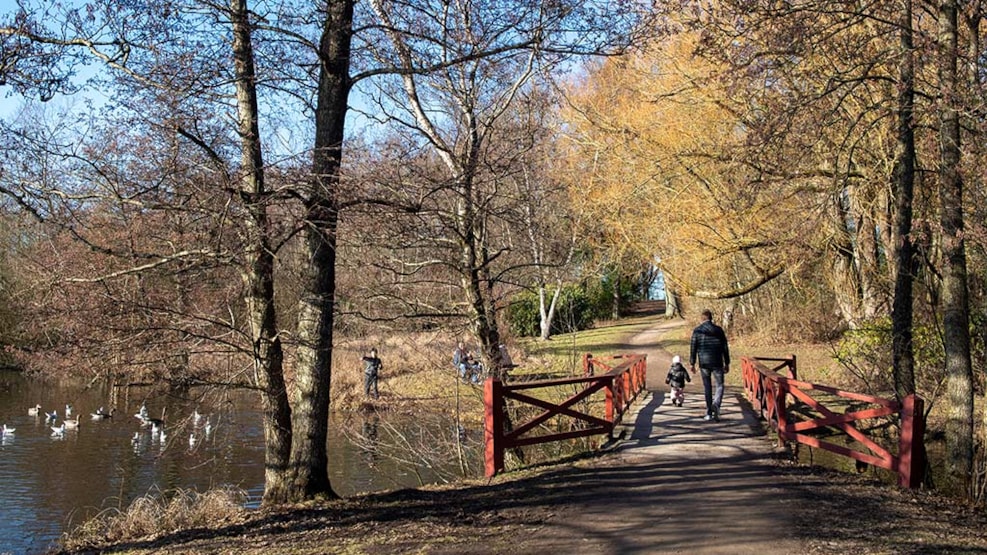 The park Doktorparken
Enjoy Doktorparken's many lovely facilities that cater to the entire family. Visit the playground, watch the many birds in the aviaries, or go on a relaxing stroll through the park.
Doktorparken is Randers' most popular park among families with young children, as it has great facilities for the entire family. The park was modelled on British parks with winding paths, a romantic lake, and lots of little secluded spots among the big, old trees.
Great Facilities
A nice area at the park entrance has tables and benches at which you can enjoy your packed lunch with a view of the lake and to the sound of birds chirping.
At the park, you will find a large aviary filled with beautiful birds. Everything from canaries, budgerigars, and parakeets to pheasants, chickens, and doves. The birds in the aviaries must not be fed.
The park has a stimulating playground built from nature's own materials, and here, there is no end to the fun and exercise you can have. Jump from log to log and from one gigantic egg to another, and find out how high you can go on a swing, or glide down the slide.
The Park
You will find Doktorparken at Parkboulevarden near Viborgvej in Randers NV.
Do you feel like going on a longer walk or bike ride, a path leading out of the north-western end of the park will take you along Svejstrup stream to Oust Mølle in Helsted. The path goes through a meadow with sheep, goats, and other animals.
Dogs are welcomed at the park as long as they are kept on a leash and you pick up anything the dog may "leave" there.
See what others are sharing on Instagram