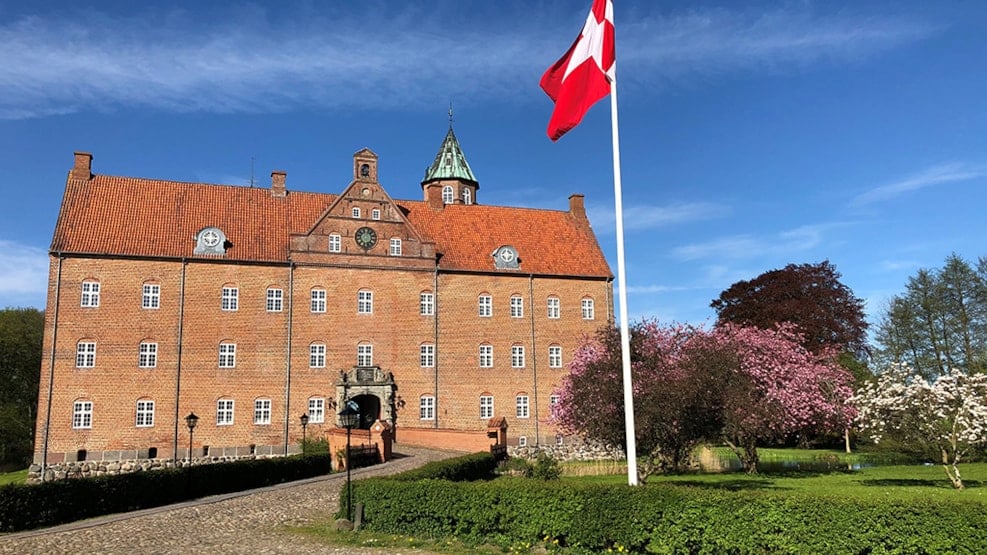 Palace Sostrup Slot
The palace Sostrup Slot oozes of history. From the heyday of masters and mistresses to its time as a refugee camp and later a monastery. Today, the castle is a great place for concerts, meetings, conferences and many other events. 
Sostrup Slot today
On Sostrup Slot, you can arrange meetings, conferences, seminars, and other events for 10-300 participants. In the boulder building, there are 3 meeting/conference rooms in varying sizes. The Monastery's impressive Pyramidesal (the glass pyramid-covered convent garden) has room for 220 guests for dining or 300 reception guests. Here you can have your wedding festivities and you can be married in Maria Hjerte Church that is on-site. Sostrup can offer sleeping accommodation for up to 120 people in the old Farm building and in the comfortable monastery cells.
The history
Sostrup is an island fort established on a man-made island of granite boulders and hundreds of oak tree posts. The posts are to retain moisture so they don't become porous. This is why it is important that the moat doesn't dry out.
An old myth says that Sostrup castle will collapse into the moat on a Christmas night. This was not something the former owner, Jørgen Schell, also known as the wild earl, wanted to risk being a part of. Instead, he built a house in the neighbouring town of Gjerrild where he could stay on Christmas night. He named the house Kokkehuset and the house is still there to this day.
Many families of noble birth have owned Sostrup castle. The mighty Scheel family became the owner of Sostrup in 1612 and it remained in the Scheel family for 211 years. At the time, the castle was named Skeel which was the original spelling of the Scheel family name. The last person of the Scheel family to own the castle was Jørgen Scheel. He travelled around Europe on several occasions over a 15-year period. It was during these trips that he brought many cultural artefacts home with him; works of art, 11.600 books, furniture, hand-painted tapestry, etc. However, it was also this interest that eventually lead to the end of the Scheel family's era on Sostrup.
See what others are sharing on Instagram