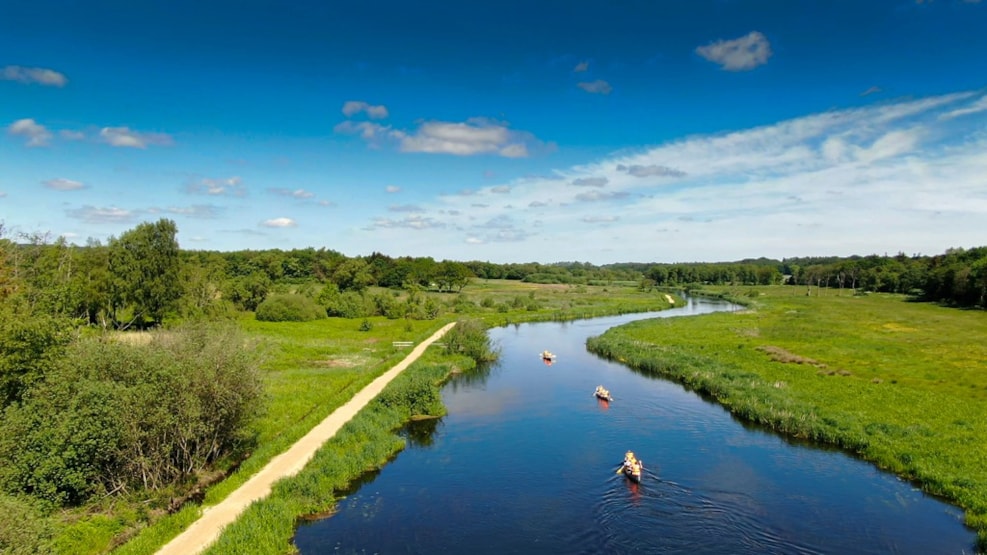 Paddle Down the Gudenåen Stream: From Silkeborg to Bjerringbro
Paddle down Gudenåen from Silkeborg to Bjerringbro. Along this stretch, you will have a great view of the surrounding scenery just as you will have some wonderful options when it comes to delicious food and comfortable accommodation along the way.
The distance from Silkeborg to Bjerringbro is app. 40 km.
Find out more about facilities along Gudenåen on a map.
A Scenic Route on Gudenåen
North of Silkeborg, Gudenåen is wide and the landscape is open with a great view of the surrounding scenery. You will pass Silkeborg Langsø lake, Resenbro, and Sminge Sø lake, before you reach the man-made Tange Sø lake, which can be a tough place to cross because of strong winds. When the lake is calm, it is a great place to pull out your fishing rod; just remember to purchase a fishing license.
Practical Information on the Route
At the end of Tange Sø lake, you will find Denmark's largest hydroelectric plant, Tangeværket Gudenaacentralen, where you will have to carry the canoe across to the other side in order to be able to continue your journey towards Bjerringbro.
From Silkeborg to Randers, the barge puller path, Pramdragerstien, runs on the left bank of the stream. At some stretches, the path has been enhanced with elevated wooden piers; at other places, it is muddy and covered in tall grass.
Eat and Sleep Well Along the Route
Along the route, you can eat and stay at the charming inns of Svostrup Kro and Kongensbro Kro. Or you can choose to stay at Søhøjlandets Familiecamping just before you reach Kongensbro, just as there are tent and sheltersites several places along the way.
Distances
The average distance covered in a day is between 15-20 km. This takes about 4-5 hours plus you need to include breaks along the way. Expect a speed of app. 4 km per hour.
Silkeborg – Resen Bro: app. 6 km.
Resen Bro – Tvilum Bro: app. 8 km.
Tvilum Bro – Kongensbro: app. 7 km.
Kongensbro – Ans Bro: app. 8 km.
Ans Bro – Bjerringbro: app. 9 km.
See what others are sharing on Instagram