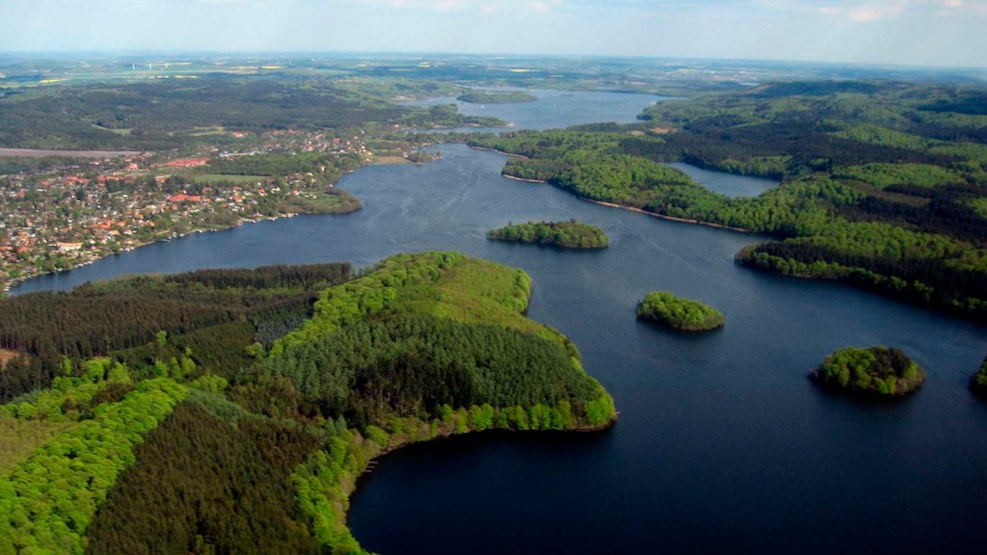 Paddle Down the Gudenåen Stream: From Klostermølle to Silkeborg
Experience Gudenåen while sailing serenely on the water and be mesmerised by the stunning surroundings. Along this stretch of the stream, you will meet amazing lakes, a great selection of accommodation, and not least: the world's oldest paddle steamer.
The distance from Klostermølle to Silkeborg is app. 30 km.
Find out more about facilities along Gudenåen on a map.
The Land of the Great Lakes
On its way from Klostermølle to Silkeborg, Gudenåen runs through several large lakes, such as Jutland's largest lake, Mossø, as well as the lakes of Gudensø, Julsø, Brassø, and Borresø. After having crossed Mossø and Gudensø, you arrive in Ry at the town's beautiful marina. Here, you will find Ry Kanofart canoe rental service, and on the marina, you can stop for lunch at Restaurant Lakeside or order a picnic basket with lunch for you to enjoy out on the water.
If you wish to spend the night in or near Ry, you can make reservations at Hotel Ry a few hundred metres from the marina or keep on paddling to Knudsø and find accommodation at either Birkhede Camping or Knudhule lakeside hotel or you can continue a bit further to Terrassen Camping. Should you be interested in camping under more primitive conditions, some campsites are available near Ry.
The canoe trip in the direction towards Silkeborg will take you across Julsø and past Himmelbjerget where you can have a pit stop and walk to the top and take in the breathtaking view of the Lake District.
In Distinguished Company Alongside the World's Oldest Paddle Steamer
Besides it potentially being hard work sailing across the large lakes, the trip from Ry to Silkeborg can be quite busy, as well. Usually, quite a few sailboats and powerboats are on the water, and the world's oldest paddle steamer, Hjejlen, sails the lakes together with its seven sisters from Hjejleselskabet, among them Hejren, Mågen, and Turisten. So, be careful out there.
Accommodation On the Way
At the very end of Julsø, you will find Skyttehusets Camping and Ålekroen on either side of Gudenåen, and these are great places for a pit stop or an overnight stay. From there, you have to cross Brassø and Borresø before you reach Silkeborg and the wonderful Indelukket, a combined urban park and marina with the stream, the forest, and a park directly connected to Silkeborg. At Indelukket, you can stay at Gudenåens Camping, or you can keep paddling for just a short while and stop at Danhostel Silkeborg. On the Silkeborg harbour, Silkeborg Kanocenter canoe rental service is found right next to the lock kiosk, from where you need to require assistance in order to get through the lock and onwards on your northbound journey.
Find information on possible accommodation along Gudenåen.
If you want to visit the heart of Silkeborg or relax at the harbour for a few hours, luggage lockers with charger stations are available, so that you can safely leave your luggage behind.
Distances
The average distance covered in a day is between 15-20 km. This takes about 4-5 hours plus you need to include breaks along the way. Expect a speed of app. 4 km per hour.
Klostermølle – Ry: app. 11 km.
Ry - Himmelbjerget: app. 7 km.
Himmelbjerget - De Små Fisk: app. 8 km.
De Små Fisk – Silkeborg: app. 4 km.
See what others are sharing on Instagram