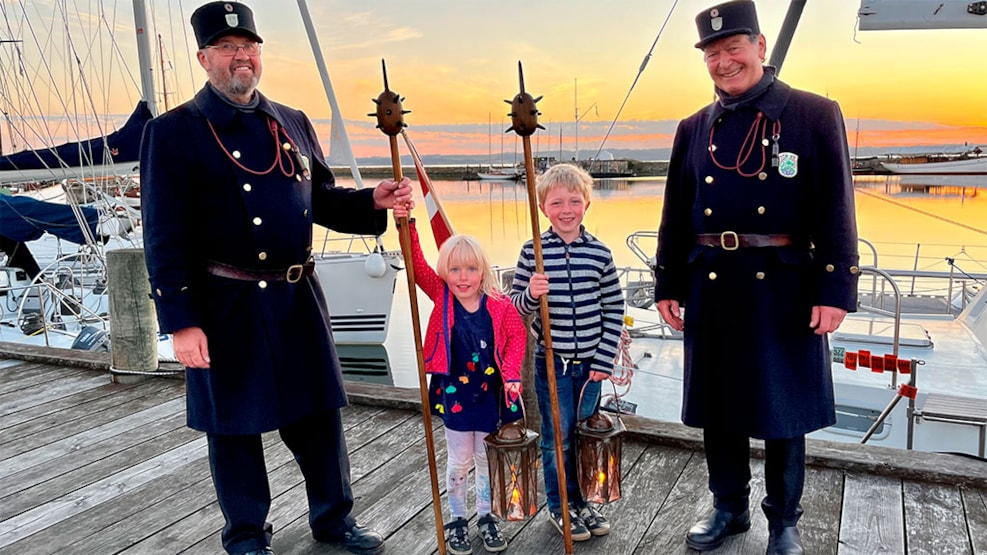 The Night Watchmen in the old Ebeltoft
In Ebeltoft, it is tradition that the nightwatchmen walk during the Summer and Christmas season, where they walk around the city and in front of the old town hall.
The nightwatchman keeps his watch
The night watchmen are known far back in time from all the country's market towns, thus also from Ebeltoft, where they were mentioned for the first time in the late 1600s. In 1761, in conjunction with the introduction of compulsory fire-fighting service in all of the country's market towns, it was also decided that the towns should have night watchmen. The watchmen should be responsible for lighting and extinguishing the street lamps, maintain peace and order and, in addition, ensure that fire did not break out. Every hour they should patrol the streets and cry out the time.
It is quite desirable to be a night watchman in Ebeltoft, so you can meet the same guards season after season. The old verses are sung throughout the summer period 26 June - 28 August at 7 pm and 8 pm on the stairs in front of the Old Town Hall.
Along the way, the night watchmen also sing at different restaurants.
Christmas
In December, the nightwatchmen walks every weekend at 12 pm, 13pm & 14pm.
Also, on December 23, the nightwatchmen walk at 13pm, 14pm & 15pm.
See what others are sharing on Instagram