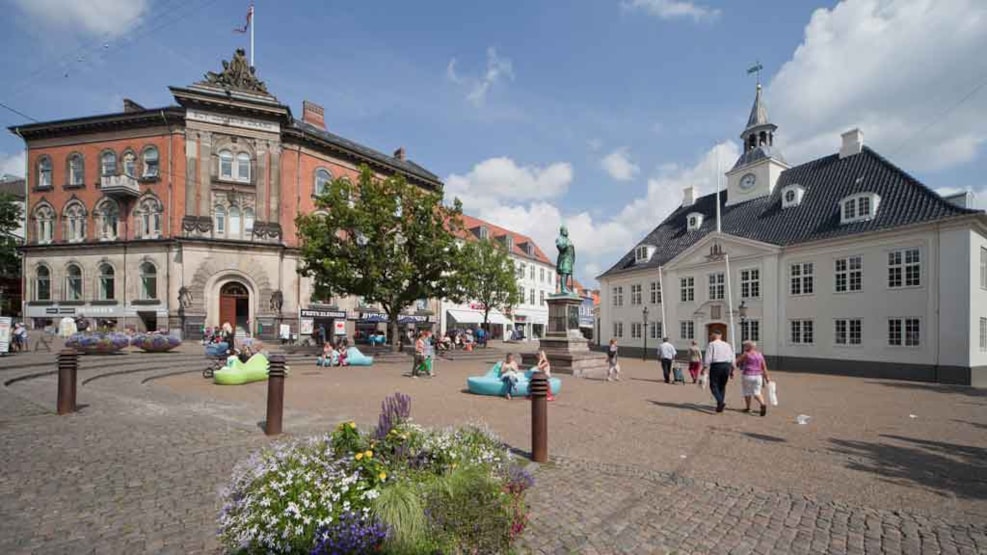 Niels Ebbesen
In Randers you will find many sculptures in the town's squares, streets and gables. Among them are F. E. Rings statue of "Niels Ebbesen".
On November 2., 1882, the danish, national hero Niels Ebbesen finally received his monument of honour at Rådhustorvet (the City Hall Square)in Randers.

Niels Ebbesen (app. 1318-85) went down in history as the patriot who set Denmark free of German rule. The year was 1340, and Jutland was pledged to the German Count Gert III. Count Gert's rough methods of collecting taxes caused resistance, and finally it was too much for the Jutlanders. Led by Niels Ebbesen, a small troop rode into Randers on the night between April 1 and 2 1340 to seek out Count Gert. What happened was that Niels Ebbesen separated the count's head from his body in one stroke and thus set Jutland free.

The material of the statue is made out of canons from the warship Dannebrog and it was executed by the artist F. E. Ring.