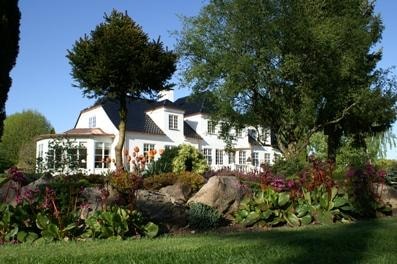 Neder Kjærsholm Hovedgård
Neder Kjærsholm Hovedgård is an old manor house located in central central Jutland, whose history dates back to the 16th century. Today, the old manor is privately owned and has several functions spread over the many buildings.
Neder Kjærsholm Hovedgård
Stalden (the stables), Neder Kjærsholm Hovedgård's farm shop, is open to the public and sells antiques, unique handicrafts, glass art, marble figurines and much more besides.
Here you will find all manner of gifts large and small, ornaments and materials for decorations that make it simple and easy for you to create beautiful decorations on your own. The tables in the shop ooze creativity. A mix of old and new gives visitors great ideas on how, with just a few materials, they can decorate the table for festive occasions. We strive to find unique items not found anywhere else in the area, making it an exciting and different store.   During the summer, we open parts of the garden, which can be visited for DKK 20.   Please visit our website to find out more.
See what others are sharing on Instagram