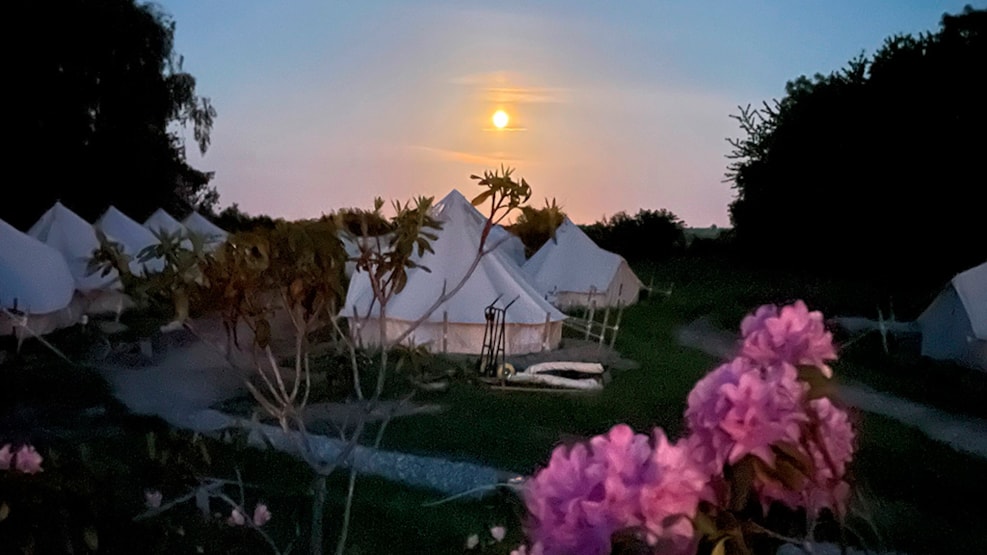 Naturhotellet Petersborg, venue
At Naturhotellet Petersborg on Djursland, which is a course and conference center, you'll have a truly unique experience in idyllic surroundings of fields, forests, and a lake. Here, you can get up close to nature while staying in luxurious glamping tents and cooking in the campfire hut. 
Naturhotellet offers team-building activities with guided tours and activities in the scenic surrounding area.
Course and Retreat Center in the Heart of Nature
Naturhotellet is a course and retreat center located in the beautiful nature of Djursland, combining modern course, meeting, and conference facilities with accommodation right next to nature in luxury glamping tents.
It's the perfect place for those of you seeking a pleasant and peaceful location in scenic settings for meetings, courses, or retreats with a good atmosphere, delicious food from the local area, and the opportunity to participate in activities and workshops.
Book a course or a retreat stay and have the entire area at your disposal.
A Unique Group Experience
Naturhotellet Petersborg offers a wide range of team-building activities and workshops for small and large groups. Their activities are diverse and beneficial for both body and soul. They offer activities such as yoga, forest bathing, tree climbing, trout fishing, and team cooking.
Their activities and workshops are conducted in collaboration with a range of skilled instructors, each a specialist in their own field. They also offer tailored exercises and activities based on specific wishes and needs.
Accommodation and Stay
At Naturhotellet, they offer accommodation in stylish, single-person cotton glamping tents. Each tent is equipped with a carpet, a comfortable single bed with a rustic headboard, a pillow, and a luxurious Muscovy duck down duvet, ensuring a good night's sleep. Additionally, electricity is provided in the tents, allowing you to charge phones and computers during your stay.
As a starting point, they have room for 30 overnight guests in individual tents, but with double bedding, they can offer up to 60 sleeping spots.
See what others are sharing on Instagram