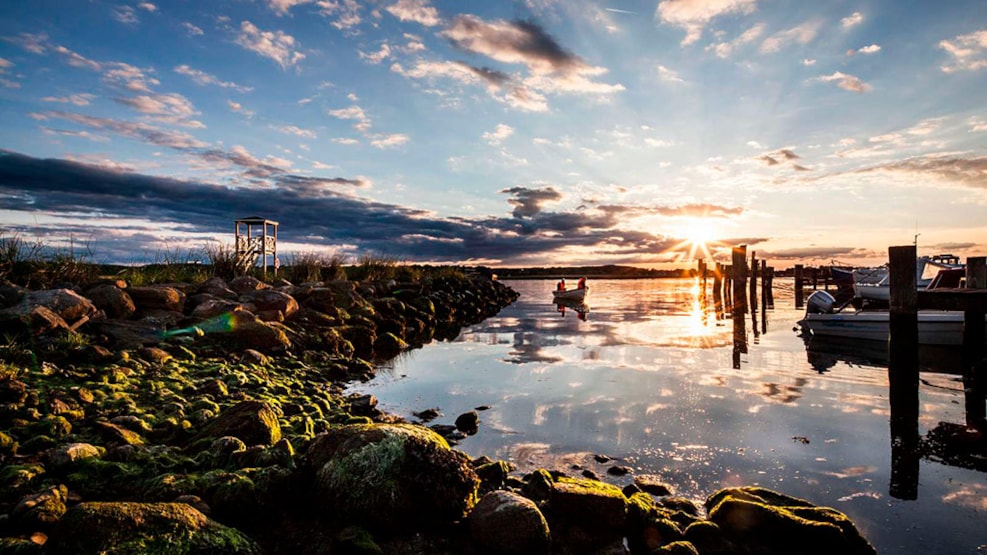 Naturepark Randers Fjord
Naturpark Randers Fjord is among the largest nature reserves in Denmark, and this is where the fresh water meets the salt water in the Kattegat. On the stretch from the centre of Randers to the outlet in the Kattegat, the inlet's 'blue band' displays the most stunning scenery with flowering salt meadow, large reed forests, shallow tidal flats, and great vantage points.
Randers Fjord is almost 30 km long and is the mouth of the river Gudenåen.
Together with the fjord itself, the forests of reeds and beach meadows along the fjord are home to a rich bird life, and the fjord also contains a great variety of fish species.
In several places in the area, tables and benches, shelters and bird watching towers can be found, which the guests in the area can freely use.
In two places in Naturpark Randers Fjord, you have the possibility of crossing the fjord by ferry. The ferry sails across the fjord from Mellerup to Voer and at Udbyhøj. The Mellerup-Voer ferry service can boast of being the oldest royally licensed ferry service in Denmark dating back to 1740 and is also the smallest ferry in Denmark. Where Randers Fjord flows into Kattegat, you can take Denmark's only cable-drawn ferry at Udbyhøj.
Do not miss:
1) The Activity Centre Kyst- og Fjordcentret near Voer
2) Udbyhøj Yacht Harbour, the Equipment Base and the beach
3) The Café Færgestedet in Mellerup
4) Kanaløen (The Channel Island) - Boats can be rented on the Kyst- og Fjordcentret.
5) The ferries at Randers Fjord
Danish Nature Parks are a labelling scheme administered by Friluftsrådet for larger cohesive natural areas that focus on using and protecting nature in Denmark.