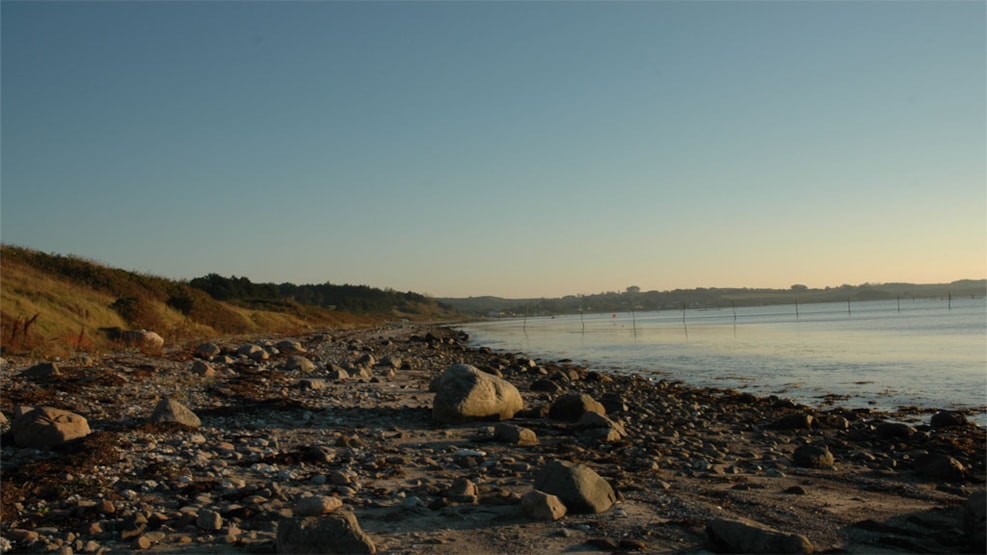 Natural area Dragsmur
Dragsmur probably got its name because the Vikings used to pull their ships across the narrow isthmus to avoid having to navigate around the Helgenæs peninsular.  
A paradise for kayakers
A kayak slipping across calm water. Dragsmur is the perfect place of departure for a kayak trip along the coast. There is excellent access to the sea, and the characteristic hills and the flat salt meadows offer adventures for hikers and kayakers. 
Over the narrow strip, Draget, which connects Helgenæ swith the mainland, is a low bank of stones and earth. The bank is called Dragsmur. From a written report from 1623, it is mentioned that Marsk Stig, who then owned Helgenæ s,built the bank at the end of the 13th century. Today the bank marks the boundary between Vistoft Parish in the north and Helgenæ s Parish in the south.Towards east is Ebeltoft Inlet and towards west Begtrup Inlet. In both areas it is possible to fish and swim. At EbeltoftInlet it is also possible to launch a smaller boat.Following the beach towards south, the remains of the Middle ages high-ridged pastures are seen along the lowcliffs by the beach.