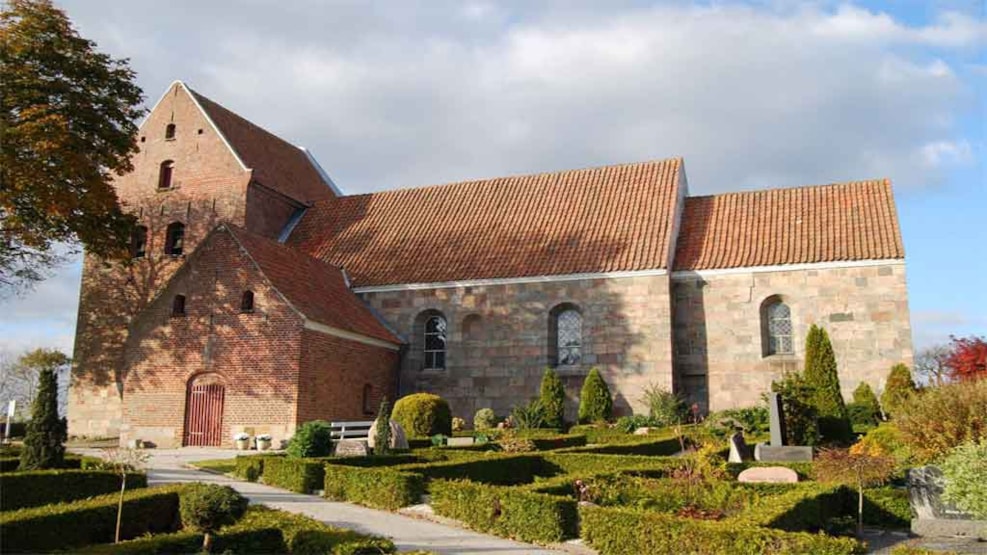 Mørke Church
Mørke Kirke dates back to the period of the great church building in the early Middle Ages.
The oldest parts of the church are the ship and choir, which are unusually large for a typical Romanesque village church. With its 25 meter length and a 10-meter wide choir, it is among the largest medieval churches in Djursland. Based on the granite works, it has been estimated that construction probably took place during King Niels' reign (1104-34).
Today, the church appears with cross vaults in the ship and is of Gothic type. They are probably built into the church room sometime during the 15th century. Perhaps the construction of the tower has started around the same time. The old end wall, toward the west of the ship, was removed and the vaulted tower room was joined with the ship. The inner parts of the porch are probably added to the church sometime in the 14th century. However, it has since been expanded several times.
When the church was renovated in 2013, a lot of frescoes were found in the church's ceiling which was in a better condition than first expected. Based on an assessment of the condition of the paintings, some have been selected, which you can now see in the ceiling, while others have been whitewashed. The church is once again white and beautiful, with new paintings here and there. In addition, they also found a large crypt in the floor with old coffins and buried corpses, which they have tried to identify. The church was more or less torn apart, but today it stands as a beautiful church.