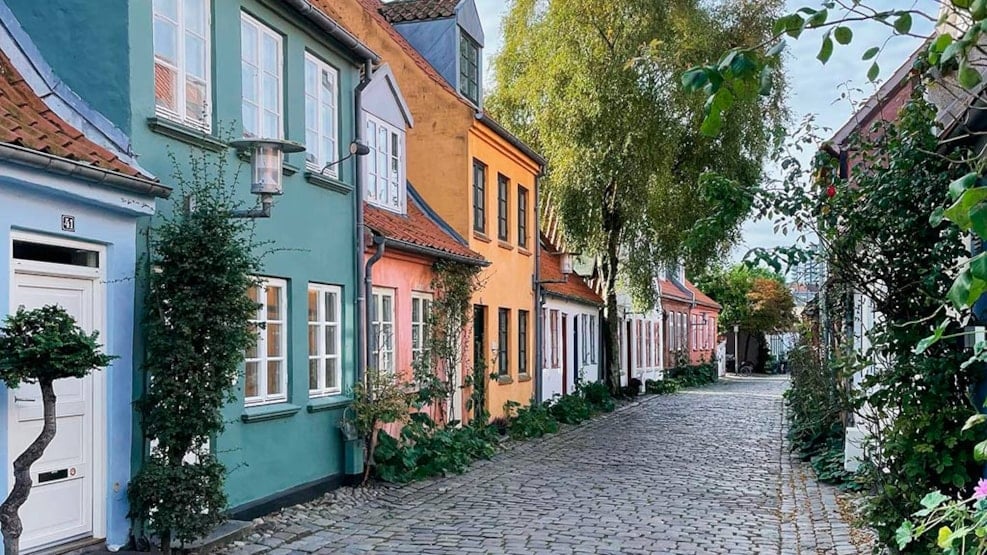 Møllestien
The old idyllic Møllestien lane is a picturesque cobbled street right in the centre of Aarhus. The hollyhocks and rambling roses race each other to grow up against the tiny old half-timbered houses with their small-paned windows.
A street filled with ancient charm
Most of the houses were built in the 18th century and the whole street exudes ancient charm. The street itself has existed even longer and is dated to the early middle ages – and even back to the time of the Vikings.
Møllestien is a street with true village idyll. The houses which are characteristic in Møllestien are called "outhouses" or "booths". They were originally one-storyed houses to let with one or two windows and a door, and besides the kitchen often only had the one living room. The greater part of these houses still standing were uilt between 1870 and 1885 most likely over similar type timbered dwellings from the 1600-1700 period.
Have a break and let time stand still
Take a walk through Møllestien today and your first impression would be that time has stood still. And so it is - the street is simply idyllic with beautiful hollyhocks reminding you of romantic bygone days.
But it has not always been like that. For instance, two women who lived there in 1688 were sentenced for witchcraft. Today Møllestien is a picturesque cobbled street right in the centre of the city. It is regarded by many as being the most beautiful street in Aarhus.