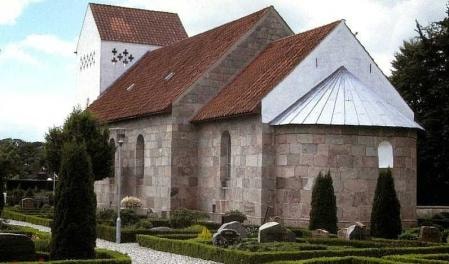 Mejlby Church
The Mejlby Church consists of a Romanesque nave, choir, and apse. The church tower from 1957 is built from hewn granite stones, as are the other parts of the church. What sets it apart is that the upper half is open so that the bells can be seen from the outside.
The north-facing door with the tympanum is bricked-up and preserved, and the south-facing door with the tympanum and frames are inset in the tower, functioning as the church entrance.

Hanging in the nave, are the earlier altarpiece, which is a painting of Jesus as the good shepherd, together with an even earlier triptych with framed scripture texts. On the Communion table there is today a modern crucifix which was erected in connection with a recent renovation. The font is an exceptionally well preserved Romanesque lion-adorned font.