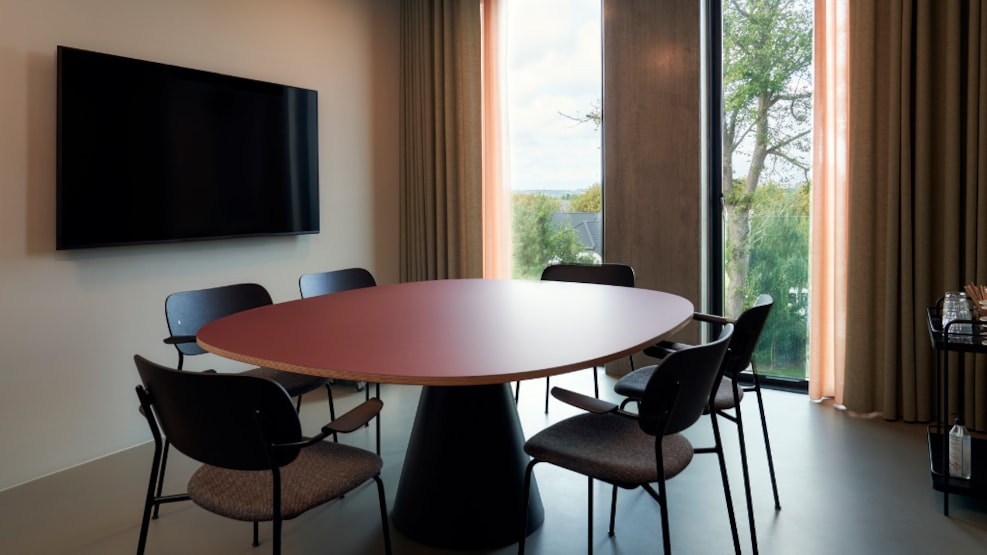 Meetings and conferences at kirstinelund
At kirstinelund just north of Aarhus, your meeting or conference can be just as you wish. Their versatile facilities allow you to be creative, riding the wave of 180 innovative companies in a large business campus. Create a day with edge and dynamics.
kirstinelund is knowledge, skills, concerts, lectures, and communal dining, to name just a few examples. The atmosphere is dynamic, and the gastronomy is provided by the Aarhus-based food universe, MIB.
Business community and the kirstinelund buzz
On a daily basis, kirstinelund is a large business community spread across seven buildings, where 1,000 people and 180 companies thrive. And they thrive well. That's precisely what makes them truly special.
When you book a meeting or a conference at kirstinelund, you have direct access to the business community, and immediately you and your guests are surrounded by the unique kirstinelund buzz.
A complete experience
Use the entire place and change your surroundings during the day or choose your favorite corner in one of the buildings. kirstinelund does their very best to make your day a complete experience, and they are happy to help tailor everything from green surroundings, outdoor experiences, and catering to table settings and decorations.
They prioritize their outdoor areas as much as their indoor areas. Around kirstinelund, the old garden flourishes, and small pathways connect the buildings. During breaks, let your guests move around and free their minds in our green surroundings. Why not experience life at kirstinelund on your own?
In short, kirstinelund is full of opportunities.
Knowledge boost and modern surroundings
How about kickstarting your day with a free 20-minute knowledge boost? They offer a brief presentation from leading companies in areas such as inbound marketing, PowerBI, strategy and management, machine learning, and network organization.
kirstinelund offers:
Direct connection to the kirstinelund business community
Modern, bright, and industrial surroundings
Several green outdoor areas
7 architectural buildings
8 modern meeting rooms
3 inspiring conference rooms
Space for 150 seated guests
330 free parking lots
Lunch and catering from the local based food company MIB
5 minutes to the highway
Barista brew and coffee at Gårdens kaffebar
And so much more. Stop by for a personal tour first and experience the unique atmosphere at kirstinelund in Lystrup, just north of Aarhus.