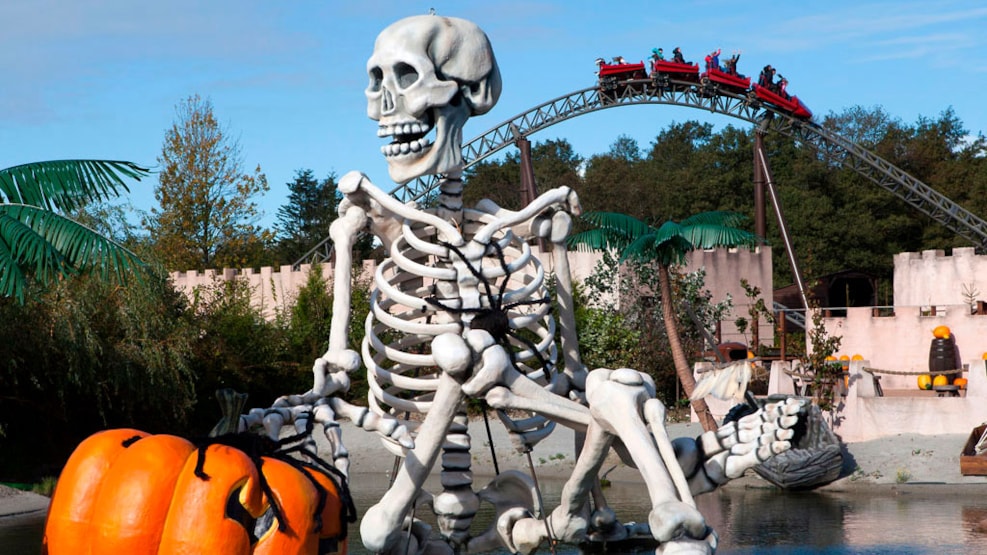 Magical Halloween in Djurs Sommerland
Come to Djurs Sommerland in the fall holidays and experience a huge Halloween event for the whole family. An extraordinary (un)cozy and atmospheric experience is planned when Denmark's largest roller coasters are joined by 30.000 brightly colored pumpkins, large halloween creatures and giant spiders.
Everywhere it buzzes with magic and thrill when 300 employees are transformed into living witches and pumpkins with imaginative costumes.
Feel the thrill
Explore the two halloween haunted houses that can only be experienced in Djurs Sommerland during the fall holidays. In the Witch School, black-clad witches take guests on a 'walk-through experience' through 15 rooms filled with sensory experiences, in which shapes and colors emerge in the rooms and create surprising illusions. More horror and spookiness await in the Pumpkin Factory, where mysterious things happen when upset, living pumpkin creatures, under great turmoil, chase new ingredients for the factory soup.
Food so delicious it's scary!
When hunger strikes, you can step into the magical dining hall, where witches will serve delicious food, made with magic especially for you. There's loads of entertainment for this kids, while you enjoy the food in magical surroundings.
Every day during the autumn holidays you can also try Denmark's largest roller coasters and over 60 fun rides for little and big children.

See opening hours etc. at www.djurssommerland.dk
See what others are sharing on Instagram
#djurssommerland #halloweendjurssommerland #visitaarhusregion