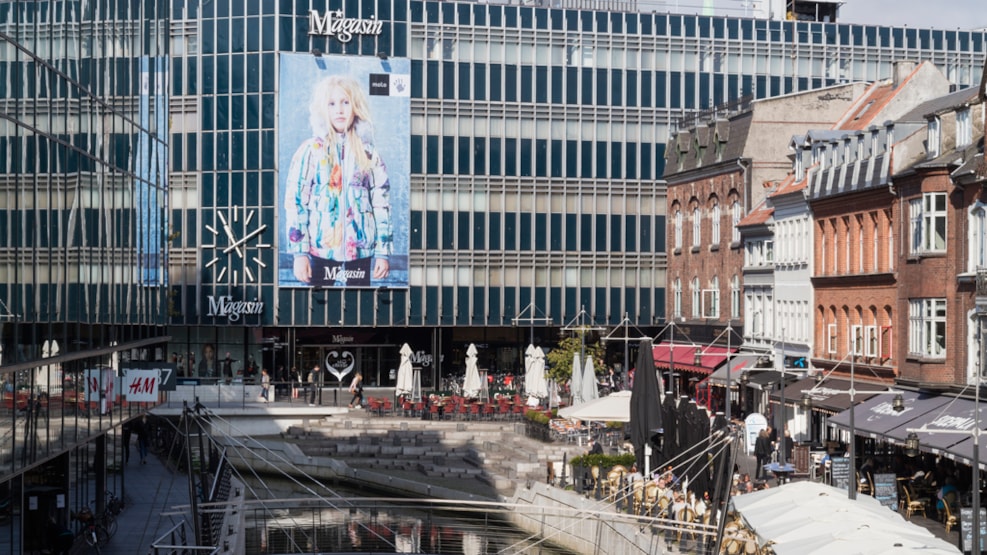 Magasin
Magasin is an exclusive department store in the heart of Aarhus where you will find everything under one roof. All floors abound with trend-setting fashion brands for women, men, and children.
The best brands in town
At Magasin you can find a large selection of exclusive brands from all over the world from Acne and By Malene Birger to Kenzo and Stine Goya. In the interior designs department you will find a large selection of both classic and modern Scandinavian designs. If you are looking for beauty products, there is a wide range of gorgeous international brands on the ground floor.
Your personal shopper
At Magasin the customer is always the centre of attention, and there is always somebody to assist you. So just ask! You can book your own personal shopper at Magasin in order to get a specialist helping you choose the perfect fit for you, your individual style, and, of course, your budget. They can assist you when shopping for gifts, beauty articles, women's clothing, men's clothing, and lingerie. You can book a personal shopper free of charge. And it's easy to book an appointment here
The latest trends to style your home
Magasin is always ahead when it comes to the latest trends and designs for your home. You can go exploring a wealth of classic, cool, and unique brands. You can find timeless Danish designs from Kähler, Rosendahl and Royal Copenhagen, VIPP and Georg Jensen, as well as products from more recent brands such as Gejst, Broste, Hey There Hi, and Lind DNA.
And you can find a great selection of the current best-selling books and new electronics, which is also perfect if you are shopping for gifts for your loved one(s).
Scrumptious delicacies
If you are shopping for a delicious treat for yourself or for a gift, there is a huge selection of exclusive delicacies for you to choose from – from coffee, tea, and chocolate to wine and liquorice. If you feel like a bite to eat or a sweet treat, you can find the good stuff, both sweet and healthy foods, at Joe & The Juice, Lagkagehuset, or Greenilicious.
Don't forget that you get 10 per cent off purchases (excluding reduced-price items) at Magasin with an AarhusCARD. You can read more about the large number of benefits on www.aarhuscard.dk.
See what others are sharing on Instagram