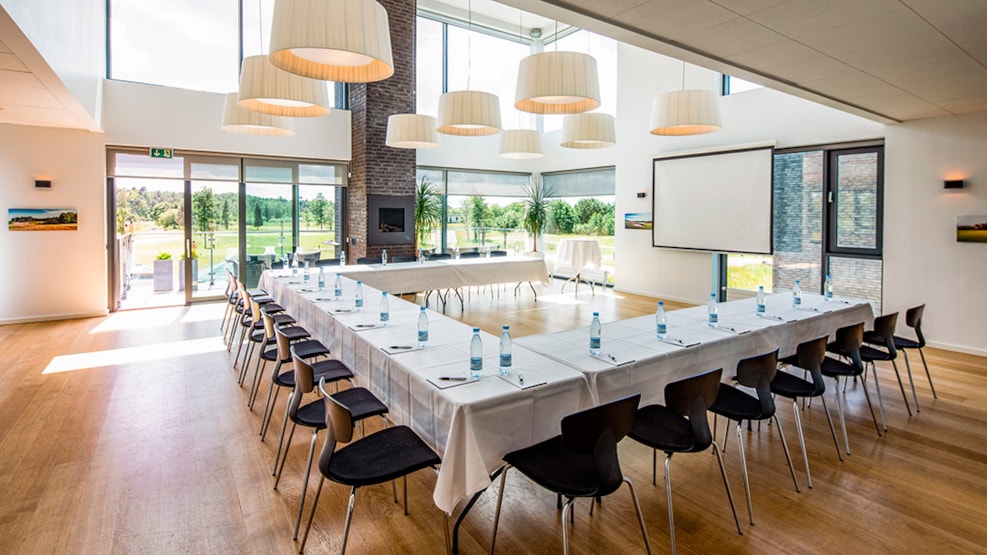 Lübker Golf & Spa Resort, venue
At Lübker Golf & Spa Resort you can host meetings and conferences in a green environment with stylish and modern facilities.
A good conference venue needs a pleasant environment to kindle inspiration, creativity and comfort among the attendees - all of this, you will find at Lübker Golf & Spa Resort.
Green setting and bright rooms
Host your next conference or meeting at Lübker Golf & Spa Resort. The setting is green, the views are outstanding and the conference rooms bright and comfortable. They can provide anything from small-scale all-day meetings to longer conferences with overnight stays. They have six different conference rooms of different sizes, all of which are bright and inviting. Though the conference rooms are all situated at different spots in their green grounds, what they all have in common is a beautiful view, comfortable furniture and tasteful décor.
A conference programme with that little extra
A great setting is a vital prerequisite for a good course, meeting or conference. Lübker Golf & Spa Resort will provide you with that little extra something that will make a good conference programme even better: golf, spa and excellent food. During breaks, attendees can take a short stroll in the beautiful setting, enjoy a lovely meal in their restaurant and spend the night in the beautiful apartments/houses. Whether you are into golf, wellness, nature or fine dining, they can work with you to devise a programme that suits your particular needs.
Great location in a wonderful landscape
Lübker Golf & Spa Resort is centrally located in Djursland and easily accessible with 15 minutes from Aarhus Airport and the cities of Aarhus, Randers, Grenaa and Ebeltoft within a radius of 40-50 km. Your meeting guests will experience a breathtaking natural area with unique orchids and rare amphibians.
See what others are sharing on Instagram