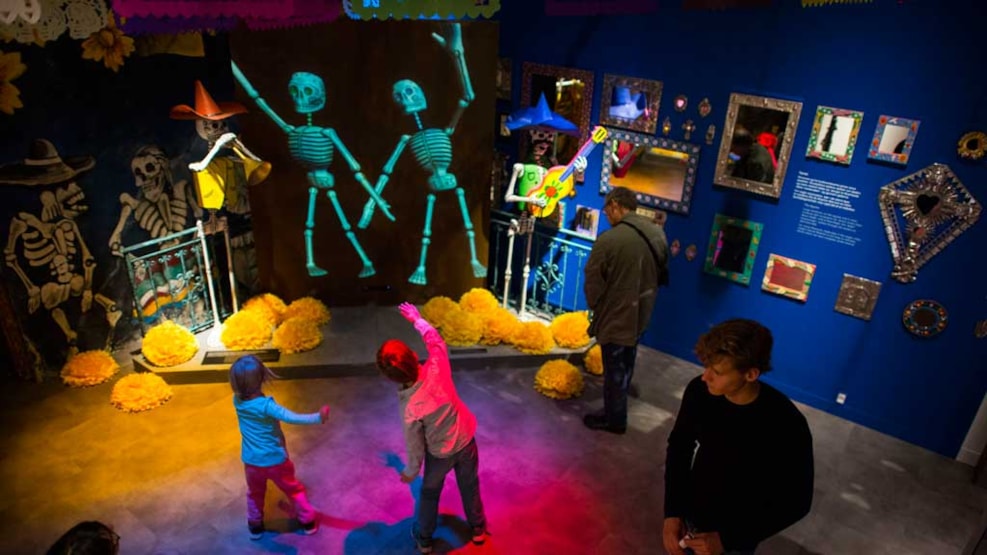 The lives of the dead
'The lives of the dead' is the first large ethnographical exhibition at Moesgaard Museum. This exhibition is a journey around the world which shows how the living commemorate and honour their dead.
A life with the dead
One of the destinations on this journey is Mexico where the Day of the Dead is the biggest festival of the year. The day when the dead come visiting. People decorate their homes and make a special altar to commemorate the dead.
From Uganda to Australia
You can also see how they both fear and honour the dead in Uganda and Australia. Their rituals are very different from those that we know in our part of the world. Here they use music, light, and many different ways of celebrating, all for the purpose of attracting the attention of the dead whilst showing them great honour.
Personal stories
The exhibition also portrays the relationship of the Danes with their dead family members. For one thing, why is it that the Danes are finding it so hard to separate from the belongings of their dead? You get very close-up to intimate personal stories about the Danes' relationship with death. A theme which is normally otherwise very much a taboo subject in our part of the world.
A great experience for the entire family
Despite the sombre theme of this exhibition it is a great experience for the whole family. The children can have fun dancing like a skeleton in a large interactive art installation which decodes their movements.
See what others are sharing on Instagram