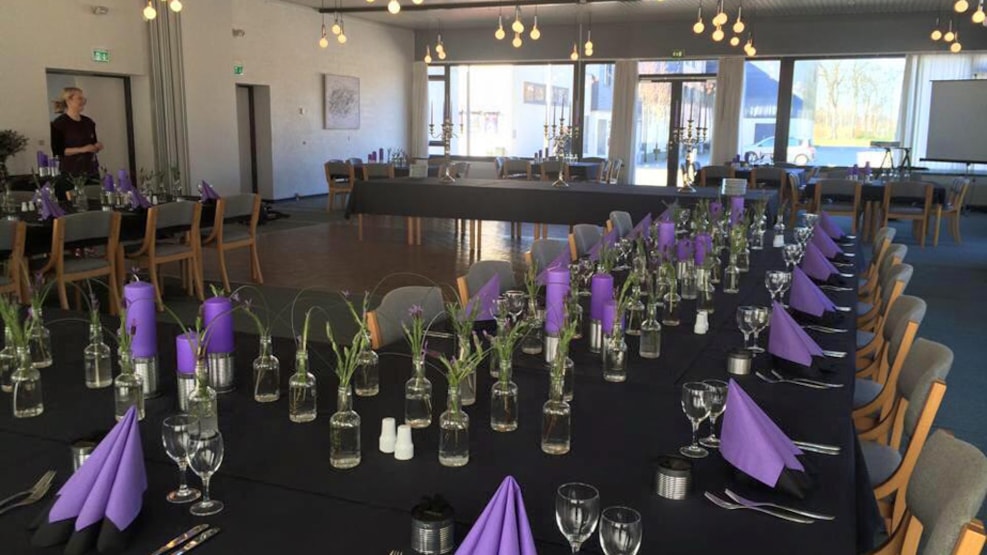 Kulturhuset Pavillonen
The Pavilion is the cultural gathering place in Djursland. With a wide-ranging cultural profile ranging from the wide and multifaceted to the special and edgy, there is a special atmosphere that the audience would like to travel far to experience.
The Pavilion - Djursland's cultural venue
In addition to the many cultural events, many associations have their base in the Pavilion which means that the house is filled with life from morning to evening with a multitude of ​​different daily activities. Cultural profile The Pavilion contains many different cultural arts such as theater, musical, comedy, visual arts and not least LIVE music which take up the majority of the activities - presented by genres such as rock, pop, folk, jazz, world music, shows, heavy, hip hop and a whole lot more…
The cultural program is a great mix between established & famous artists and up-and-coming artists. This mix allows you to experience the familiar as well as something new and edgy.
Facts
The Pavilion is a flexible house with capacities from 50 to 1200 having the opportunity to adapt the space to the concert in both size and expression. The center room can hold concerts with numbered seating in the amphibious building as well as for a standing audience without chairs.
The Pavilion Hall is very flexible and accommodates a variety of setups up to 250 audiences and the Hall is the largest room with up to 1200 audiences.
Besides the cultural profile, the house contains evening school activities, music school, picture school, amateur theater, dance school and more, as well as meetings and conferences. In addition, the house also contains a number of sports activities such as handball, badminton, indoor soccer, spinning, aerobics and more.
The house contains its own kitchen which provides plenty of food for the many activities - from the smaller meetings to the concepts of dining before the concerts.
The pavilion is located geographically in the middle of Denmark and it is located in beautiful natural surroundings close to the center of Grenaa city.
History
The pavilion in Grenaa has a long history and originated back in the early 1900's when the old hall was built and the first activities started. Since then, the house has grown over the years, both in size and in number of events, to the cultural center it is today. In the late 1970s, the concerts began to fill more and over time, legendary Danish orchestras have had their early beginnings in the old hall in intimate surroundings ex. TV 2, Gnags, Malurt, Lars HUG and more.
See what others are sharring on Instagram