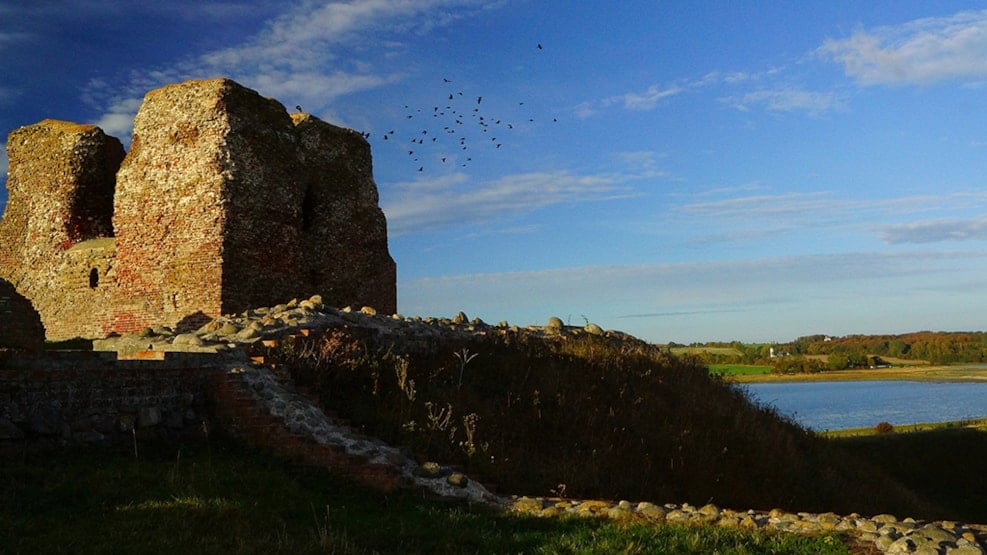 Kalø Castle Ruins
The castle Kalø Slotsruin was built in the Middle Ages and it is incredibly well preserved. As you walk the 1,5 km distance along the dam to Kalø Castle Ruins you are also travelling 700 years back in time. 
The longest medieval road in Denmark 
Arriving at the end of the longest medieval road in Denmark, which was constructed at the same time as the castle Kalø Slotsruin, you can easily imagine the life that went on behind the castle walls. King Erik Menved (1274-1319) had the castle built after he had defeated a Jutland peasants' revolt in 1313.
The power of the king 
The castle was quite modern, e.g. with a flanking tower; the first of its kind in Denmark. Kalø Castle was impressive and nearly impregnable. However, in reality, the castle was built to keep domestic enemies under control, i.e. peasants led by noblemen; the selfsame people the King had forced to build the castle for him in the first place.
The prisoner king 
The most famous prisoner held at the castle was Gustav Vasa, who was imprisoned here from 1518 to 1519 when he escaped. Gustav Vasa was later to become the King of Sweden. Until the introduction of an absolute monarchy in 1660, Kalø Castle served as the manor for all of Djursland.
Find out more about Kalø Carstle Ruins
See what others are sharing on Instagram