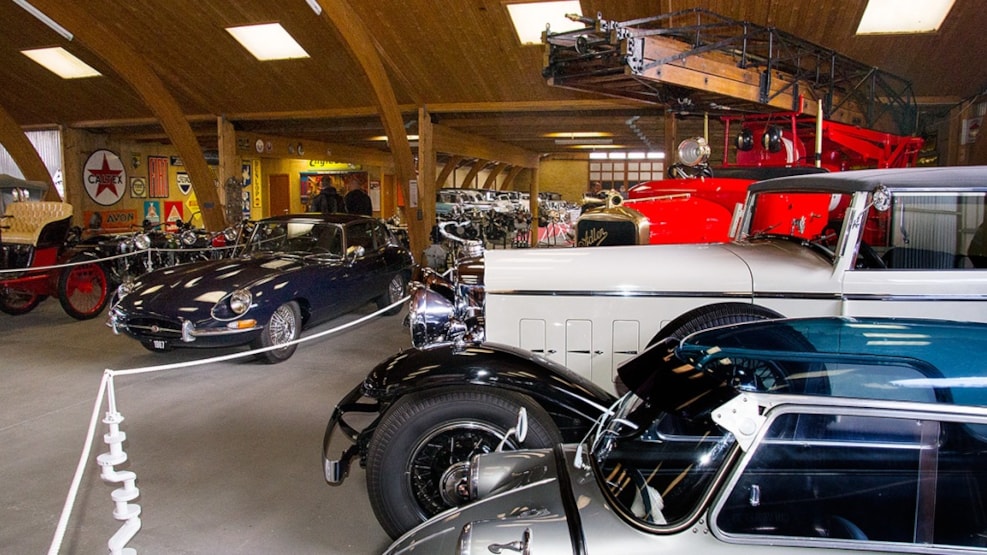 Jysk Automobilmuseum
Jysk Automobilmuseum is one of Denmark's leading car museums with a unique and nostalgic quality collection of motor vehicles. The 160 exhibited vehicles represent in total 85 different car makes from the period 1900 to 1987.
The primary collection is composed of vehicles from before the Second World War, which thereby make up the main component of the museum and the fundament of the car historical story. However, also many fascinating and well-known postwar vehicles are exhibited at the museum.
Back in time
Take a tour back in time and visit Jysk Automobilmuseum, where primarily cars but also motorcycles and a wealth of accessories are exhibited which will interest the car- and motorcycle enthusiast. Furthermore, the exhibit offers fuel pumps, special tools, antique enameled signs and cut up technique. Among the last is a Wankel engine from a NSU Ro80, which is cut up partly and in that way shows how a rotation engine functions.
Car experience
At the museum, you can experience several rare cars and follow the development from craft to mass production in the car industry.
Among the exhibited cars is a Vivinus from 1900, which was one of the first cars in Jutland. Furthermore, the exhibit offers a Hotchkiss, which for a number of years won the famous Monte Carlo races, along with a Maybach, often referred to as the German Rolls-Royce.  Cars such as Volkswagen, Saab and Volvo represent the more recent decades, a time where the car became common property, whereas Porsche, Maserati and Citroen SM represent the dream cars from that time.
Also, among the motorcycles different interesting classics are exhibited, including the Danish built Nimbus from 1927, known for it's stovepipes and the Triumph Tiger 110 that represent a motorcycle which for many during the 1950's was a dream motorcycle.
Find more information on the museums website right here.
See what others are sharing on Instagram