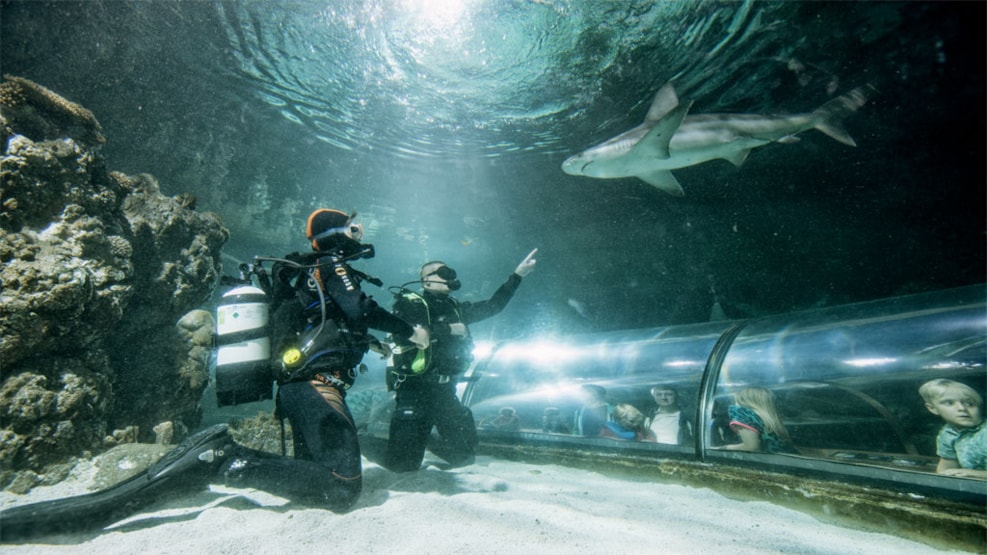 Jump in at the deep end and dive with sharks!
Jump in at the deep end and dive with sharks! 
At the Kattegatcenter you can dive with sharks whether you are a novice or an experienced diver. Professional diving instructors are waiting to give you the experience of a lifetime, and you can be certain that safety is the top priority. 
Trial dive in the Oceanarium

Even experienced divers rarely encounter sharks and a 2.5 m long conger eel, but now is your chance in our 1.5 million litre Oceanarium! Disappear into shoals of garfish, mackerel, discover brill, cod and Atlantic sturgeon, find a ray on the sandy seabed and give our five species of shark a high-five!
The dive starts with a briefing, where you will hear all about the different types of fish and about how to act when diving with the animals. A diving instructor is in the water with you so all you have to do is enjoy the experience!
Find out more here.
Big Shark Dive – The sand tiger shark is waiting for you

There they are – and so are you! If you are a certified diver, then the BIG SHARK DIVE in the Kattegatcenter's tropical shark tank is a unique opportunity to meet these amazing animals at close quarters.
It is a breath-taking experience when the large stingrays and tropical sharks, like the sandbar shark and our impressive sand tiger shark elegantly glide past you – and it is completely safe.
Find out more here.
See what others are sharing on Instagram