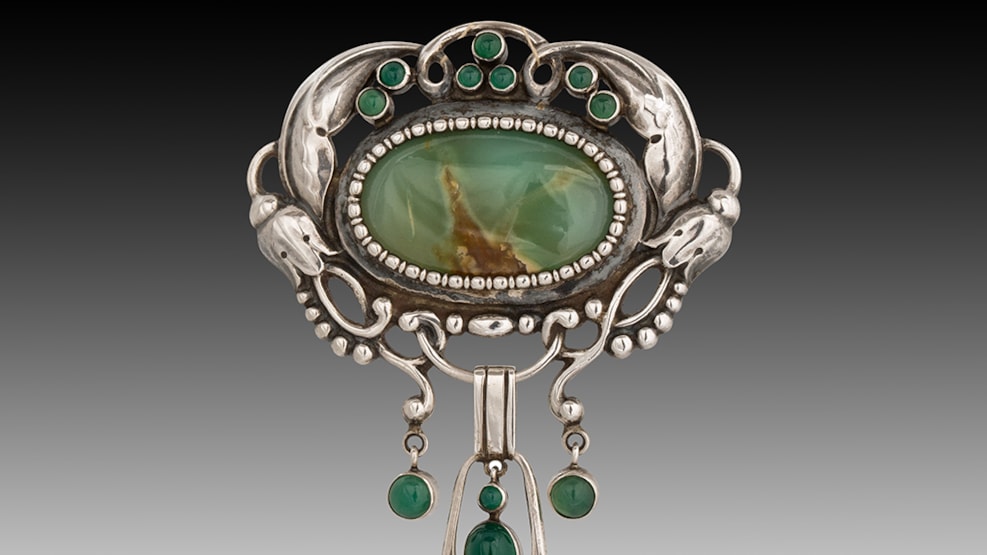 The Jewellery Box
The 'Jewellery Box' in Den Gamle By - The Old Town Mueum is a unique collection of classic Danish jewellery of the 19th century.
This February, the 'Den Gamle By' (The Old Town Museum) opened the museum's new permanent exhibition the 'Jewellery Box'; a unique collection consisting of approximately 1,000 of the finest Danish silver ornaments from the period 1900 to 2000. 
Collection originating from German couple in Berlin
The ornaments were collected by Marion and Jorg Schwandt, a married couple from Berlin, Germany. The collection puts a fine perspective on the trends in 20th century jewellery art which are particular to Denmark, that is with an emphasis on simplicity, functionality, light, and reflection.
This collection of ornaments encompasses everything from brooches to watch chains, and from hatpins and combs to shoe buckles, necklaces, and rings.
Well-known jewellery designers and silversmiths
Some of the ornaments were designed by Danish jewellery makers Georg Jensen and Kay Bojesen. Experts within the field have hailed it "a truly unique exhibition, on a national as well as an international scale". Many of the best known Danish jewellery designers and silversmiths are represented by masterpieces in the collection, including Mogens Ballin, Thorvald Bindesbøll, Kay Bojesen, Marie Christiansen, Kay Bojesen, Torun Bülow-Hübe, Bent Gabrielsen, Uwe Helmuth Moltke, Evald Nielsen, Svend Weihrauch, and Georg Jensen.
The tip came from an expert
Curator Thomas Bloch Ravn of the 'Den Gamle By' explains that in 2011 the museum was given a hint about the chance of acquiring a distinguished collection of Danish jewellery art for the Den Gamle By. A collection the likes of which it would not be able to re-create otherwise. The tip came from an expert within the field who believed that this collection would fit in well with the Den Gamle By's excellent, albeit lesser known, collections of fine Danish applied art and industrial design.
See what others are sharing on Instagram