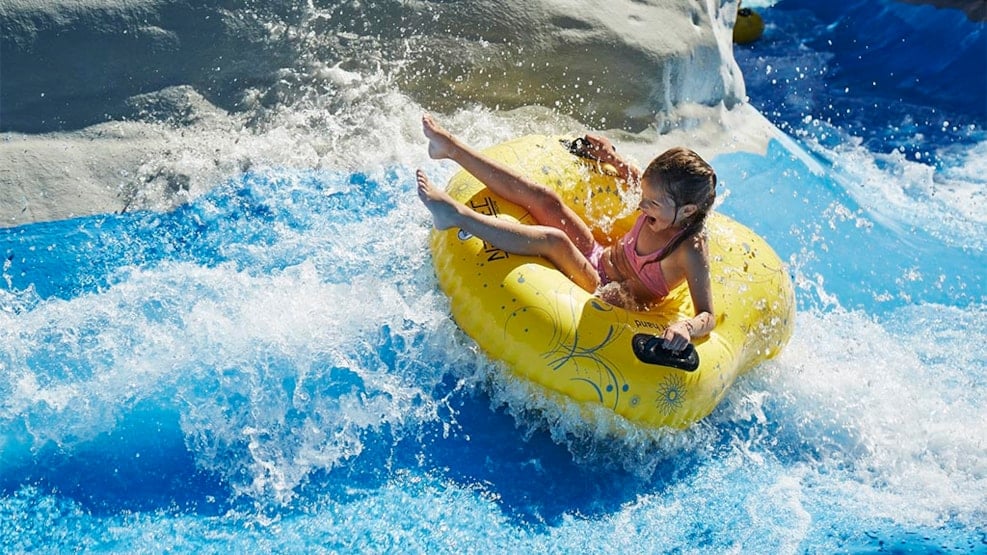 Huge Aqua Park in Djurs Sommerland
Experience the colossal Vandland, which provides hours of fun for water lovers of all ages. Ride 12 meter high waves on The Wave or follow the current down the steep mountainside on Wild River. Open from June till August 2024.
The Aqua Park is closed for the winter, but will open again in Summer 2024.
Black Hole is a full speed voyage through pitch black oblivion before a gigantic splash of water sends you back into the daylight. Look out! When Hawaii's barrel tips over, 2000 litres of water splashes down onto your heads.
THE WAVE
Hold tight onto the handrails as the wave carries you at lightning speed 12 meters up into the air in The Wave. Water splashes and you spin out of control. Get ready for a nerve-wracking, fantastic water adventure.
WILD RIVER
The roaring river calls in the Wild River! Plunge into an exciting rafting adventure where you'll need to keep a good hold of your rubber ring before landing with a splash at the foot of the mountain.
BLACK HOLE
From light to dark in 0.5 – that is the Black Hole! Slide through complex bends and fun water splashes at high speed before landing slap bang in the middle of the large pool.
HAWAII - WHERE WATER LOVERS MEET
Aloha and welcome to Hawaii. A magic water play land under shady palms. Here you can play, splash and enjoy the sun among dolphins and beach boys. The water cannons and slides are everywhere, and when one drop too much makes the barrel overflow, 2000 litres of water splash down onto the heads below.
Djurs Sommerland
You will find Aqua Park in Djurs Sommerland – Scandinavia's biggest summerland. Ready for speed, thrills and fun for all the family? Then look forward to nine themed areas, Denmark's biggest roller coasters, the huge Aqua Park and more than 60 rides for kids of all ages. Come see why Djurs Sommerland was named "Best Family Park in Europe 2019" and "Danish Theme Park of the Year 2020".
See what others are sharing on Instagram