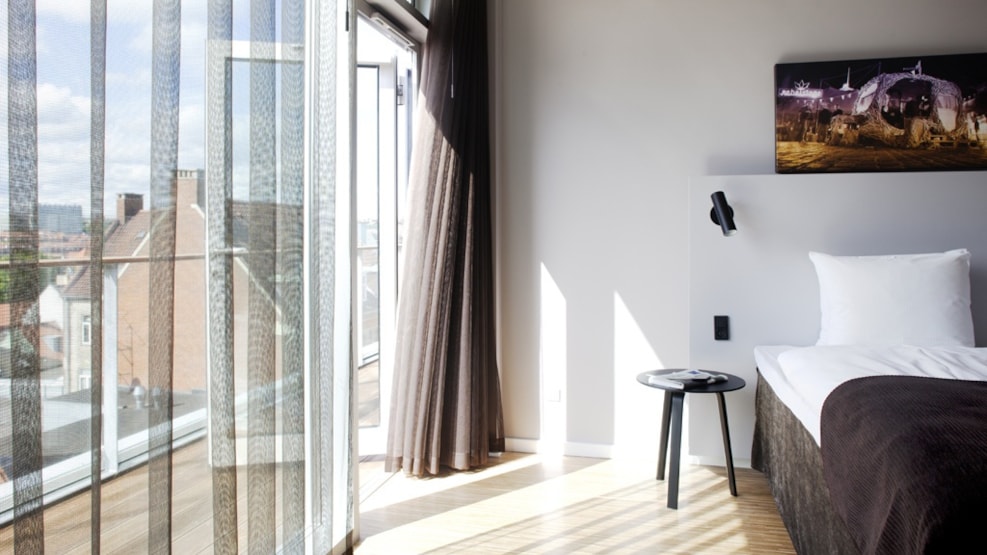 Green Experience
Hotel Scandic Aarhus City
Hotel Scandic Aarhus City is centrally located in the centre of Aarhus and within walking distance of shops and sights. Visit Den Gamle By The Old Town Museum and the ARoS Aarhus Art Museum with ease.
A hotel with a view
From some of the hotel's top rooms, you can enjoy a view of Aarhus city with a glimpse of the art museum ARoS and its famous artwork "Your rainbow panorama", Aarhus harbor, as well as the forests and beaches. The hotel Scandic Aarhus City has solar panels on the roof that provide the hotel with electricity equivalent to 90% of the room consumption. During the summer, you can enjoy their homemade honey for breakfast, which comes from beehives located on the roof.
Nordic Swan Ecolabel
All four Scandic hotels in the Aarhus Region, including Scandic Aarhus City, are certified with the Nordic Swan Ecolabel. The Nordic Swan Ecolabel guarantees that they meet a number of strict requirements in areas such as water consumption, energy consumption, food waste, and ecology.
Named Denmark's Most Climate-Friendly Hotel in 2021
The travel website Momondo has named Scandic Aarhus City Denmark's most climate-friendly hotel in 2021. Momondo Climate Award is awarded to hotels or conference centres that can document the lowest CO2 emission per guest.
Citybreak in Aarhus
Near to the hotel you will find Aarhus' popular pedestrian street, "Strøget", with its shops and department stores such as Magasin, Illums Bolighus and Salling, just outside the hotel.
See what others are sharing on Instagram