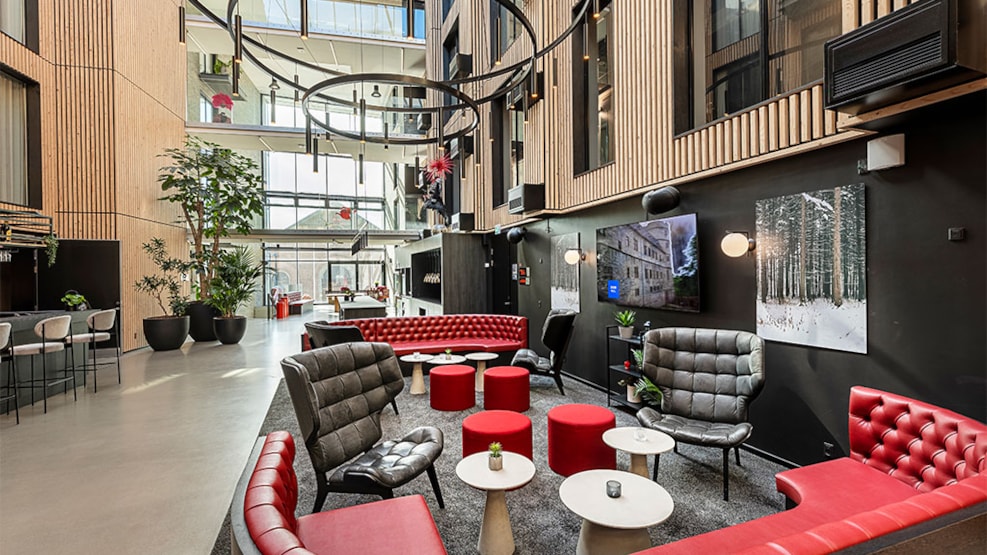 Hotel Radisson RED Aarhus
Discover Radisson RED Aarhus, a unique and trendy hotel experience in the heart of the vibrant city of Aarhus, the first Radisson RED destination in Northern Europe. Immerse yourself in the urban and creative atmosphere of the hotel, where stylish and colorful rooms combine comfort with tech-filled communal spaces.
Located just a stone's throw from iconic Aarhus attractions such as ARoS Aarhus Art Museum, Musikhuset, Aarhus Congress Center, Ridehuset, and the main shopping street, Radisson RED Hotel Aarhus places you at the center of the action and invites you to unwind in complete serenity.
The social and lively heart of Aarhus
Experience Aarhus' beating heart at the trailblazing Radisson RED, a vibrant fusion of local art and cutting-edge communal spaces, harmoniously brought to life by immersive ambient music. As you step inside, choose from the 78 chic, spacious, and colorfully designed rooms and suites spread across five floors. Indulge in an awe-inspiring view from the sweeping top-floor balconies, truly capturing the essence of this lively city.
With a 24-hour gym, two meeting rooms accommodating up to 50 people, and app-enabled in-room services, Radisson RED Aarhus caters to all needs, whether business or leisure. Plug in and enjoy!
Electrifying atmosphere at Fred & Co. Restaurant
Fred & Co. is the ideal place to unwind while savoring delicious dishes or sharing a game with friends and colleagues. A meeting point for trendy locals and globetrotting travelers, Fred & Co. invites you to forge new friendships. The tasty cuisine, friendly service, and dynamic atmosphere make this restaurant a must-visit to experience the famous Danish hygge.
Explore Aarhus, the youthful and bustling city
Aarhus stands out for its vibrant culture, large student population, and artistic masterpieces. Just 100 meters from the hotel, discover the famous ARoS Aarhus Art Museum and its rainbow rooftop, or stroll through the popular shopping streets. Epicurean travelers will appreciate the city's flourishing gastronomic scene.
Feel the pulse of this modern city or travel back in time by visiting the open-air Old Town Museum, which immerses you in the life of centuries past.
See what others are sharing on Instagram