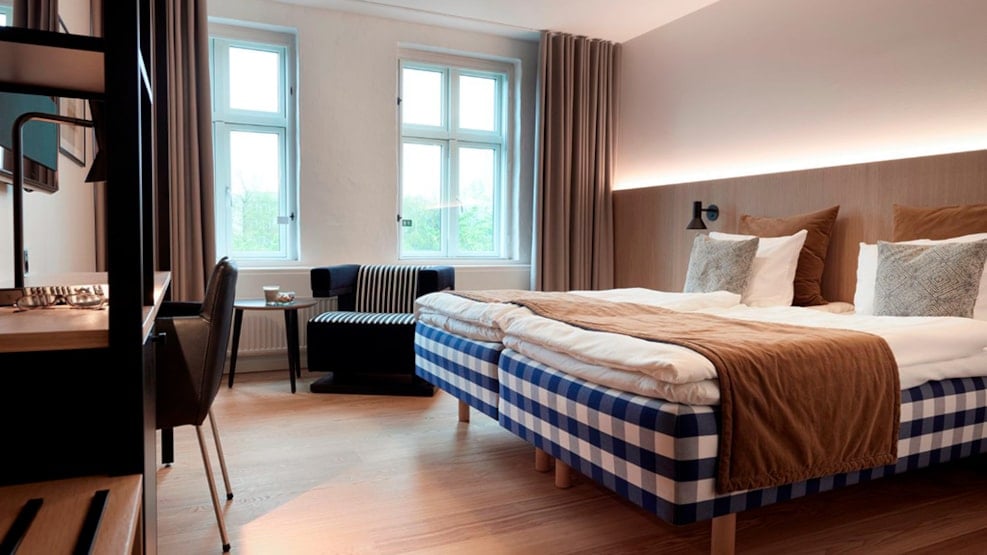 Green Experience
Hotel Oasia Aarhus
At Hotel Oasia, in the heart of Aarhus, you will find a cosy athmospere and discreet luxury. The hotel provides a high standard of service and quality in the stylish and Nordic surroundings.
The hotel Oasia is decorated with clean lines and Nordic design - and with a focus on aesthetics, functionality and cosiness.
Comfort and Nordic design classics
At Hotel Oasia you can sit back and relax while enjoying the elegant and discreet luxury. Enjoy a glass of wine at Wine Hour in the cozy lounge, get your heart rate up in the brand-new gym or relax in the comfortable Hästens beds. The hotel strives to combine coziness and modernity, which is why the hotel, and its rooms are decorated with Scandinavian design furniture, B&O electronics, and Chromecasts.
Quality and sustainability
Hotel Oasia believes that quality and sustainability are linked. Therefore, they prioritize sustainable initiatives to make it easy for you to choose a sustainable stay with the environment in mind, including the Organic Bronze cuisine Label and the environmental certification, Green Key.
Perfect location
Hotel Oasia is located in the heart of Aarhus city center, with a large selection of shopping opportunities, restaurants, ARoS and Musikhuset Aarhus just around the corner. Despite its central location, the hotel is a bit hidden as a small oasis.
A perfect holiday stay
At Oasia you have the opportunity to relax with just an overnight stay, or let yourself be pampered with holiday stays, such as weekend stays, gourmet stays and stays for couples & friends.
The hotel has an enclosed courtyard with a limited number of parking spaces. These must be booked directly at the hotel.
See what others are sharing on Instagram