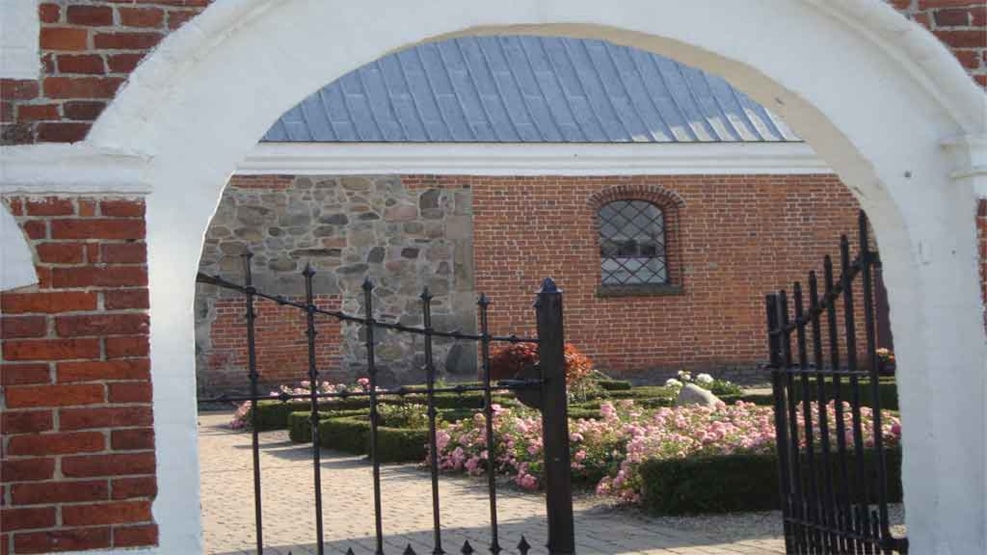 Hornslet Church
The first recorded data about the age of the church comes from 1310, where the church is referred to as "Our Lady and All Saint's Church".
The oldest church in Hornslet var a wooden church from the 10th century. In the 12th century, the wooden church was replaced by a fieldstone building, which is still to this day the middle of the present 39-meter long church.
Jørgen Rosenkrantz from Rosenholm built the church and added, among other, the 26-meter tall tower and the cemetery portal with the built-in alcoves for his and Dorte Langes coat of arms, which was never actually mounted.
The church was owned by the Rosenkrantz family until 1945. It was then handed over to the congregation, but the churched is clearly still marked by its ownership of the Rosenkrantz family.
The inside of the church has changed through the different restorations that have taken place throughout the years. In 1960, the church benches were replaced by individual chairs, and the baroque altarpiece was replaced by a Funkis marked altarpiece.
In the latest renovation in 1988, the chairs were then replaced by new benches, and the baroque altarpiece was reinstalled.
Hornslet Kirke is on top of a hill in the southern part of the town and it is surrounded by a well-kept grounds and cemetery. By the chapel is a liberty monument, raised for the towns 5 freedom fighters in the 2. world war (1940-1945).