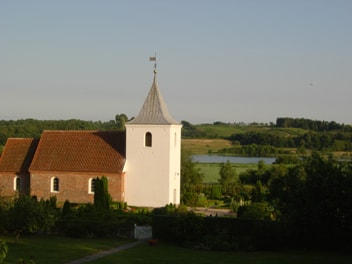 Hinge Church
Hinge church is one of the oldest brick churches in Denmark. Built in the mid-13th century, it is thought that monks from the nearby Alling Abbey were responsible for its construction.
Time has taken its toll on the brick structure, and the original brick is most evident in the eastern section of the church with the bevelled base and the bricked-up window in the apse.
The tower, in its current form, dates back to a restoration undertaken by Y. A. Fischer for Allinggård in 1779, which can be seen on the weather vane (in a short story by Blicher, Fischer is referred to as the "woman hater". His grave can be seen in Grønbæk churchyard).
The church is open on weekdays from sunrise to sunset.
See what others are sharing on Instagram