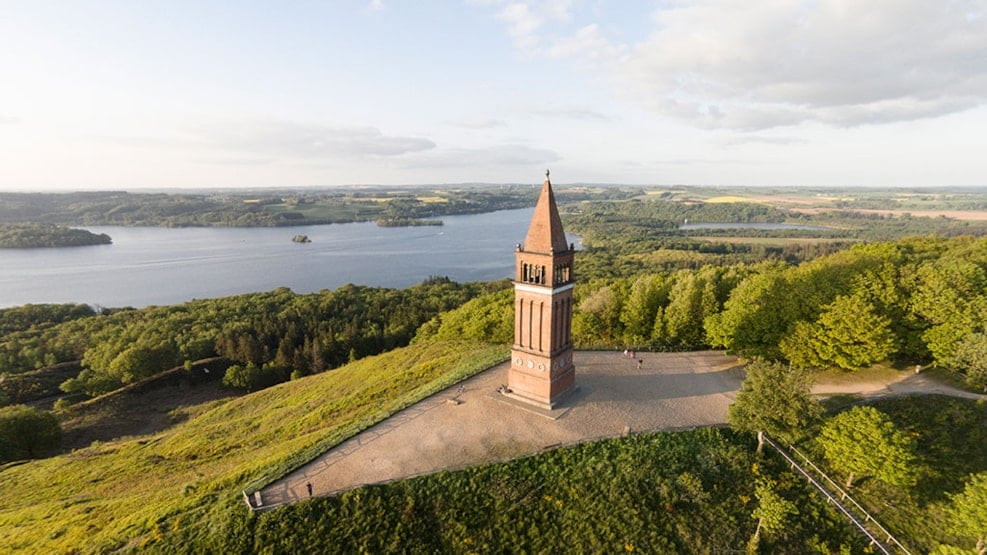 The hiking route, "Himmelbjergruten"
The 52 km long hiking route Himmelbjergruten takes you through the Danish Lake District and between the towns of Ry and Silkeborg over Himmelbjerget "the Sky Mountain". Enjoy the beautiful and varied landscapes and the river Gudenå, which runs through the many lakes.
Map of the hiking route "Himmelbjergruten".
Where to start
You can start and end your hike wherever you want, but you can for example start in Ry and hike north of the lakes over Laven to Silkeborg, where you can spend the night - see accommodation in Silkeborg here. The next day, you can hike back to Ry south of the lakes, where you will climb "the Sky Mountain" and get stunning views of the area.
Halfway along the route there is a stretch where you can get across the lakes on a solar-powered passenger ferry in the summertime.
History of Himmelbjerget - "the Sky Mountain"
Himmelbjerget was acquired for the Danish people by King Christian VIII in 1840. Since then, the "mountain" has been a national gathering place, and recurrent constitutional celebrations have been held here since the fifth anniversary of the Danish Constitution in 1854.
In 1861 the excursion boat Hjejlen was put into operation, and since then tourists have flocked to the scenic Himmelbjerg area - from 1871 by train and later by car. Today Himmelbjerget is buzzing with activity all summer long. Visit the playground Legeuniverset, enjoy the view from the tower, or buy a souvenir in one of the old stands.
See what others are sharing on Instagram