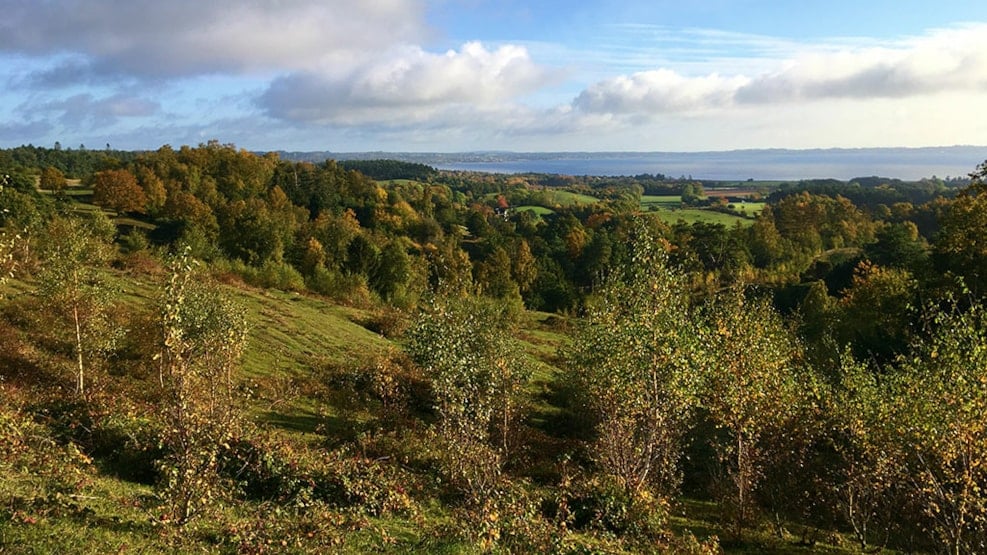 Hiking in Mols Bjerge (7 km)
The rolling Mols Bjerge presents a unique landscape shaped by the Ice Age thousands of years ago. Today, the scenery is filled with steep hills and paths, which all vary in size and complexity. The paths are good fun for hikers of all ages, who love to explore nature.
This guide is particularly for those who want to embark on the 7 km route, which is very well-suited for families with children who do not need prams or pushchairs. Along the way, you will see fantastic views that are sure to take your breath away.
You might also spot a rare species of butterfly, as 80 percent of butterfly species found in Denmark are also found here, where their habitats have been preserved. Mols Bjerge is part of The Canon of Danish Art and Culture, and every path is clearly marked up for you to easily find your way. Route maps are available in printed versions or for download on your phone.
Practical Information
Distance: App. 7 km
Level of difficulty: Medium
Expected duration: 1 hour and 15 minutes. Plus additional time for breaks and sudden impulses.
Suited for children: Yes, for children old enough to walk the full distance on their own.
Toilet access: No
Food and beverages: You need to bring your own food and beverages on this route. No tables or benches are available along the way.
Link to virtual map, where some of the route is marked
*Remember to take a screenshot of the map, as you may experience unstable Internet coverage along the route.
Route Description
The hiking route is based on the original "mountain stage", which is 20 km long. By taking two easy short cuts, the route is reduced to only 7 kilometres. The short cuts have been described in detail below so that you have the necessary information for you to find your way.
Along the way, you generally have to follow the square, green signs leading the way to Mols Bjerge Stien, but watch out for the two locations at which you need to take a short cut.
Park your car at Toggerbo parking space (Toggerbovej 3, 8420 Knebel) and follow the sign that leads south-east away from Toggerbovej. From here, the route takes you along a narrow path to and across Trehøje. The route continues south-west and then north.
Short cut 1: When the path Mols Bjerge Stien crosses a gravel road called Mols Bjerge Vej and the route takes a sharp turn in a western direction, you must leave Mols Bjerge Stien and continue north for a couple of hundred metres. 200 metres up the path, you are back on Mols Bjerge Stien.
Follow the signs leading north for yet another couple of hundred metres, this time through a forest area. 
Short cut 2: When Mols Bjerge Stien crosses the gravel road called Tremosevej, you leave the route once again. Rather than crossing the gravel road and following the signs, you turn right down Tremosevej and keep going for a few hundred metres. When Tremosevej and Tyvelhøjvej join, you are back on Mols Bjerge Stien. From here, it is straight ahead for the last 500 metres until you reach the parking space at Toggerbo.
How to Extend the Route – If You Want to Go for a Full Day
Rather than taking either of the two short cuts, you can follow the green signs all the way. Put together, the total route marked up by the signs make up the mountain stage stretching a total of 20 km. You can also head out on the full mountain stage starting from the parking space across the street from Femmøller Efterskole – Molsvej 137, 8400 Ebeltoft.
See what others are sharing on Instagram