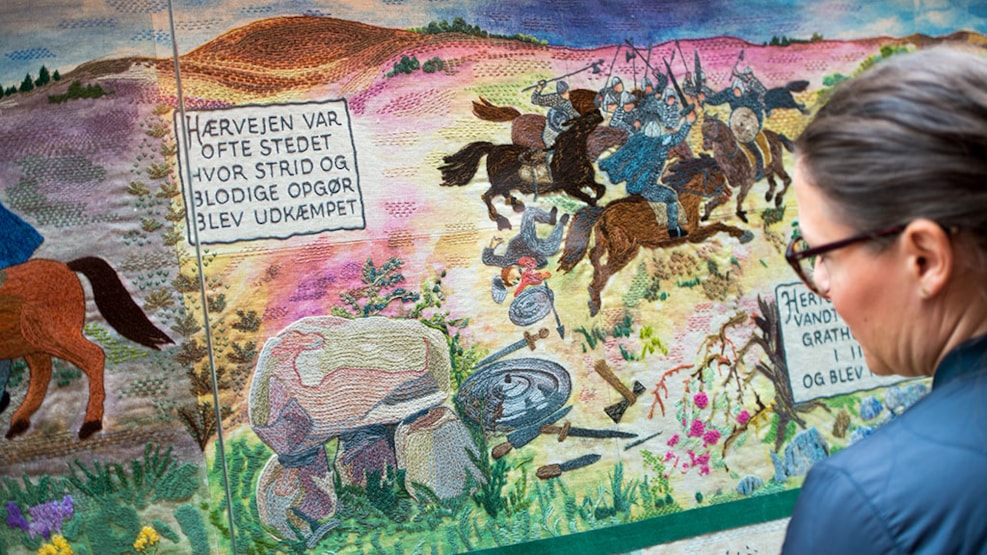 Hærvejstæppet (embroidered wall hanging)
Hærvejen - the main road of Jutland.

Before the cars and the railways, travelling overland was an arduous undertaking. Often the roads were nothing more than a couple of wheel tracks, and rain could prove an insurmountable obstacle. Add to that, that the bridges that now make light of the crossing of streams and bogs did not exist a couple of hundred years ago. The journey from Viborg to the border could easily take a week or more regardless of whether it was made on foot or by cart.

The history of the "Hærvejen" inspired a group of ladies to embroider a 10 m long carpet, which shows scenes of the life and the peoples travelling along the Hærvejen.

On basis of watercolour paintings of the artist Inga Linde Jensen the ladies started their embroidery, the "Hærvejs Carpet" and after a period of about 4 years this unique piece of arts and crafts is exhibit at the church "Søndermarkskirken", Koldingvej 79 in Viborg.

In connection with the presentation of the "Hærvejs Carpet" the book "Folk på Hærvejen" was published. The book is available in the Danish language.