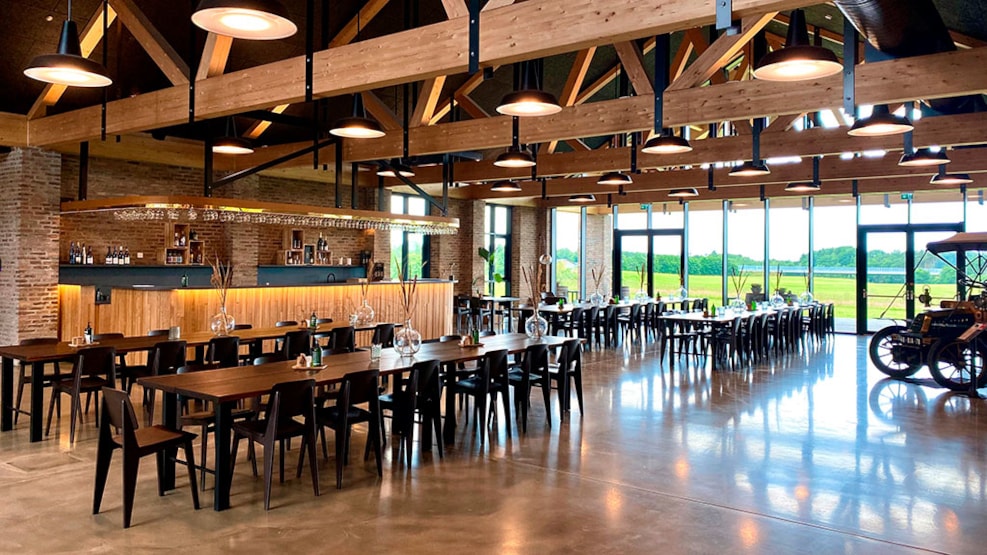 Gubsø Garage - meetings and conferences
Are you looking for an exciting and presentable setting for your next meeting, course, event or conference? Host your professional event at Gubsø Garage in Silkeborg in exclusive surroundings with classic cars as a thrilling backdrop.
At Gubsø Garage, they unite past and future in a new experience, event and conference center based on their collection of rare classic cars. The center is built in minimalist and modern architecture combined with nostalgia and natural materials.
You will find flexible meeting and conference facilities for all purposes, first-class catering and a central location between the center of Silkeborg and the scenic landscape of Søhøjlandet. There are plenty of free parking right by the center and a charger for electric cars.
The flexible rooms
Regardless of the size of your meeting or event, they offer the perfect location at Gubsø Garage. They have meeting rooms with space for 6-350 people – prepared with the audio visual equipment you need.
Are you looking for a beautiful setting for a large event such as a trade fair, a concert, a talk or a kickoff meeting? The central exhibition hall, Gubsø Street, offers a full 530 square meters with space for up to 350 people. The hall has remarkable exposed ceiling beams, a beautiful light and pleasant acoustics.
First Class Catering
The skilled chefs at Gubsø Garage ensure exquisite catering, whether it's a classic conference package or a 5-course plated service. The chefs prepare everything from scratch and use seasonal ingredients.
Gubsø Garage will definitely give you an experience that adds an extra dimension to your event!
See what others are sharing on Instagram