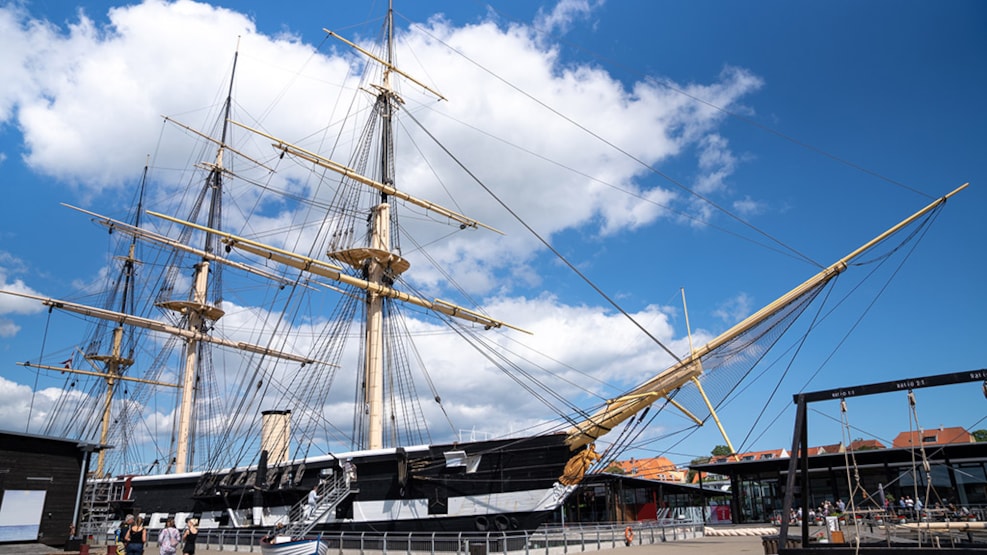 The Frigate Jylland
With 102 metres from bowsprit to stern, 44 cannons and 57 metres to the top of the masthead, Fregatten Jylland (the Frigate Jutland) is an experience with both room and entertainment for the whole family.
There are lots of opportunities for fun activities at the Frigate Jylland - you can even try and experience life on the seas more than 100 years ago:
Help load a 30-pound muzzle-loading cannon and remember to hold your ears during the cannon show.
Go on a sailing tour with the Frigate's old auxiliary boat "Barkassen" on Ebeltoft Bay.
Go with the climbing instructor 23 metres up in the rigging and see the ship, the town and the bay from above.
Maritime cultural heritage for the whole family
Help cabin boy Karl in the search for his lost pocket knife, frolic in the maritime playground or focus all your efforts on trying to live like a sailor.
A 1000 stories come to life
The exhibition hall provides the opportunity for immersion in the ship's very interesting history, and aboard the ship you can experience it full speed ahead when the museum's guides show and explain how the drama unfolded aboard the big warship, which later became both the royal yacht and summer holiday digs for school children from the province.
Today, the ship is well-restored and ready to receive its guests in Ebeltoft, just as fine and well-kept as on the May day in 1864 when the ship and crew met their enemies at Helgoland.
See what others are sharing on Instagram