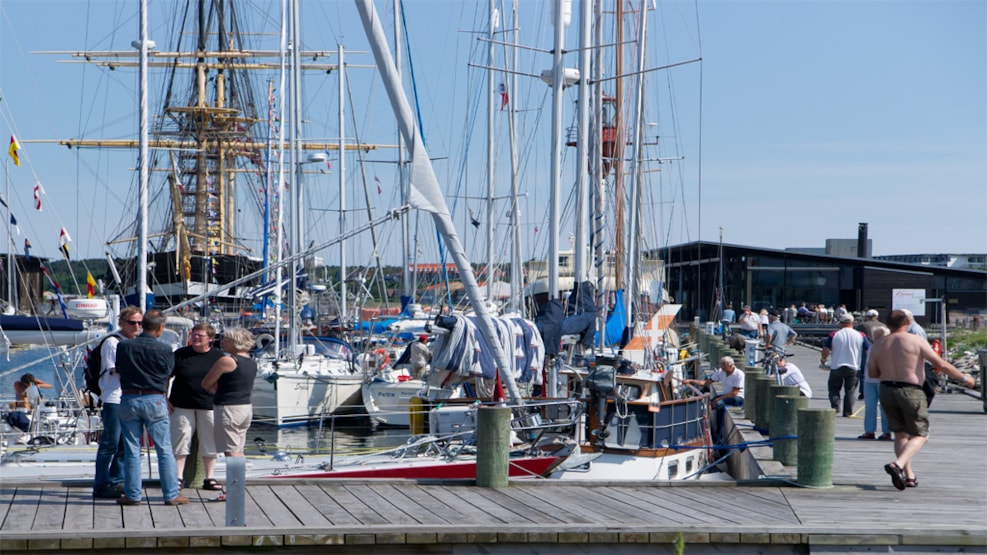 Frigate harbour in Ebeltoft
The frigate harbor houses a reputable wooden shipyard staffed by specialists in the restoration and maintenance of old wooden ships.
Frigate Harbour
Every year, more than a thousand ships visit this port, several of the large rare wooden ships such as the schooners Fulton, Zar, and Brita Leth, as well as Troels Kløvedal's traveled ship the Nordkaperen. The frigate harbor can be experienced from the seafront promenade off the Ebeltoft Glass Museum. Access to the frigate's inner harbor area as well as the pier and the Bastion is obtained by purchasing the entrance to the Fregatten Jylland.
The Fregatten Jylland's guest harbor
To lie under the frigate's master is atmospheric and beautiful. At the same time, you are as close to the old market town of Ebeltoft as you can get from the sea. The town and the hinterland offer many experiences for the whole family, so here you can easily use a few days here.
Guest sailers can call at two piers to the south and east can call without paying entrance to the museum island. The rest of the harbor is reserved for patrons, but can also be used by guests for a fee.
There is a fee of DKK 10 per person per 24 hours to cover electricity and bathing water.
See what others are sharing on Instagram