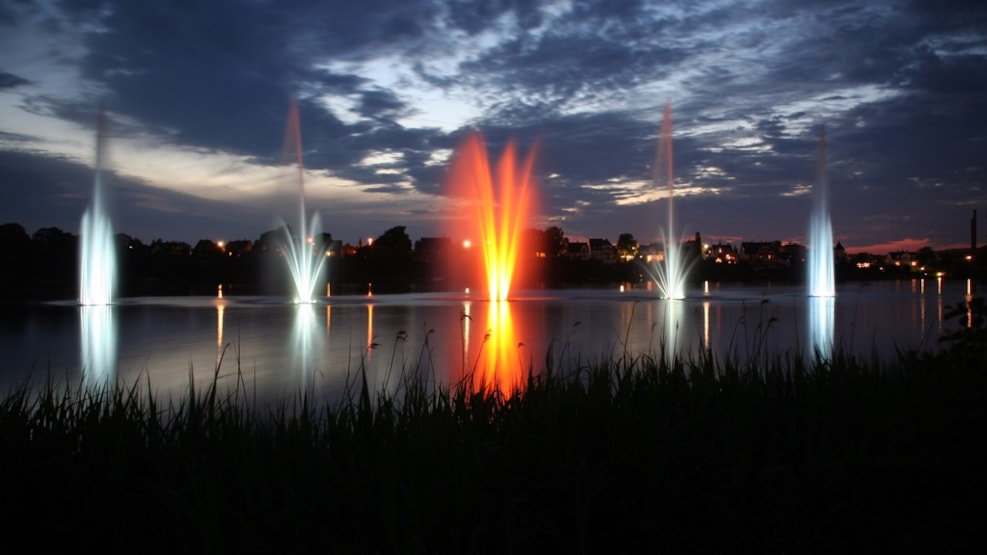 The Fountain in Silkeborg Langsø
The fountain in Silkeborg Langsø was donated by the Danish Architect and Engineering Office of 1945 and is located in Langsøen in front of the Town Hall. The fountain has different spraying times and color changes depending on the weather, day of the week, and season.
Silkeborg Langsø's fountain is one of the largest in Northern Europe, with the capacity to shoot up to 355,000 liters of water up to 30 meters into the air. The fountain consists of a total of five fountains that project water into the air with varying strengths. The tallest, central jet reaches a height of 30-33 meters, while the others reach 20 and 3 meters, respectively.
Projectors within the fountains ensure a spectacular light show, with colors changing according to a pre-programmed sequence lasting approximately 35-40 minutes.
Therefore, the fountain was moved
Today, the fountain is located in front of Silkeborg City Hall on Søvej. Previously, it was situated further out in the lake, but it was moved closer to the shore because it was disturbing the local birdlife.
However, this new location posed new challenges, as strong gusts of wind could send water directly towards cyclists and car windshields on the road alongside the lake. Therefore, the fountain is now connected to a weather station, automatically turning it off when the wind comes from a specific direction and reaches a certain speed.
Normally, you can see the fountain in action from May 1st to September 20th between 12:00 PM and 12:00 AM, and on weekends from 9:00 AM to 12:00 AM. During major events such as Regattaen and the Riverboat Jazz Festival, the fountain often continues until 3:00 AM.
See what others are sharing on Instagram