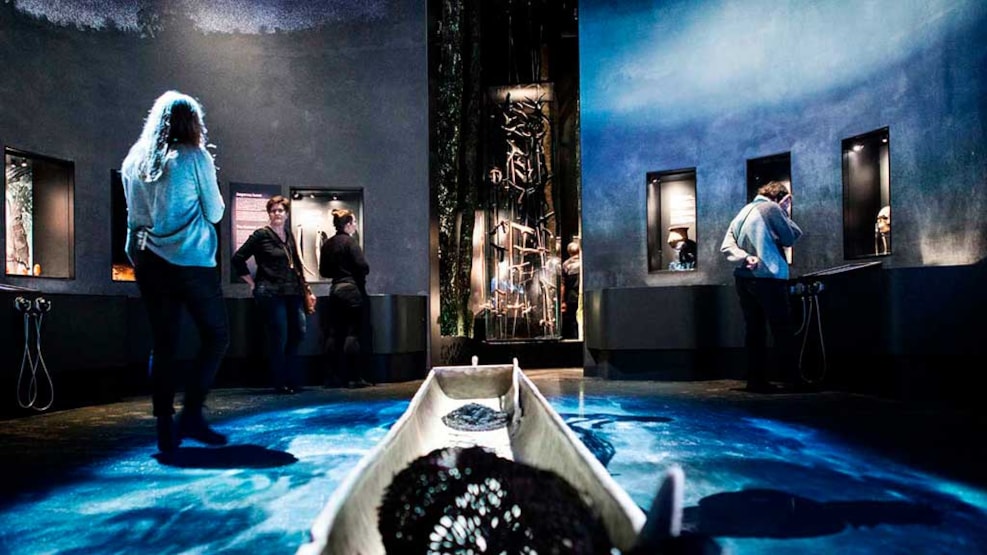 The first immigrants
Moesgaard Museum homes in on the people of the stone age in its exhibition 'The first immigrants' which gives the visitor a better understanding of, and perhaps also some surprises about, our forefathers and their way of life.
The 'Koelbjergkvinden' stone-age woman from Funen
'The first immigrants' is a permanent exhibition which takes the visitor on a journey through a multimedia production which displays environmental changes and man's encounters with wild nature over a period of several millenia. The exhibition includes the 'Koelbjergkvinden' – a prehistoric woman who lived on Funen some 10,000 years ago. The exhibition also portrays a very young mother at 16 with her baby, where you can climb into the fishing boat belonging to her family and get to know about their lives.
A new era
The stone age section of the Moesgaard Museum permanent prehistoric exhibitions portrays a period in Denmark's prehistory which is nothing like the primitive times that most people probably associate with the Stone Age.
A time of great variety
According to research, the Stone Age was a time of multiplicity and breaking new ground. During this time, advanced society was formed for the first time where prehistoric man succeeded in submitting to a set of rules which showed consideration for other beings.
A time of great changes
'The first immigrants' prehistoric exhibition at Moesgaard Museum takes the visitor back in time to the first hunters, who hunted for reindeer, and leads forward in time passing gatherers, fishers and other human society forms along the way. This fast-forward journey in time reveals the extensive and terrific changes which have occurred in Denmark since then.
See what others are sharing on Instagram