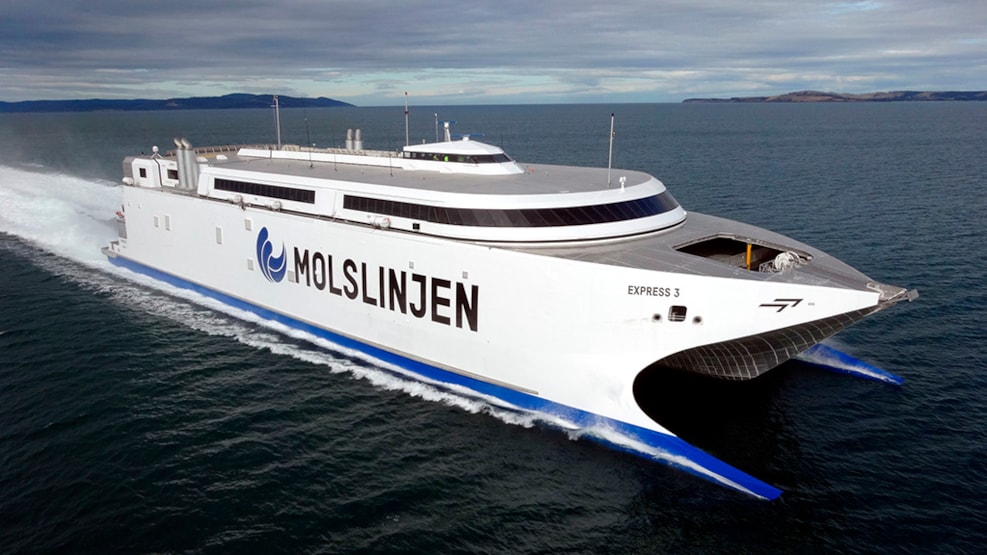 The ferry Molslinjen Odden-Aarhus/Ebeltoft
Take the Molslinjen ferry from Zealand to Aarhus and quickly, efficiently, and comfortably reach Jutland, where you can take a shortcut between Zealand and Jutland. The journey with the fast ferry Odden-Aarhus takes only 1 hour and 20 minutes.
Three of the world's largest super ferries connect Zealand directly to Aarhus with departures approximately every hour. The crossing takes 80 minutes, and during the journey, you can enjoy a break with free internet, good food, and a cup of coffee on board.
Mols Line also sails between Odden and Ebeltoft, so if you're heading to Djursland, you can advantageously choose this route.
Fast and Convenient
So take the high-speed ferry directly from Zealand to Aarhus and save both travel time and 200 kilometers on the highway!
With up to 32 daily departures between Aarhus and Odden, you'll easily find a departure that suits your travel plan – and all at prices starting as low as 249 Danish kroner!
Find Your Way to Molslinjen
Where does the ferry dock in Aarhus, when should I be there, what if I have disabilities and mobility issues, where can I park - find answers to your questions here.
Book your ticket at www.molsline.com/booking
Adresses
Molslinjen in Aarhus: Færgevej 7A, 8000 Aarhus.
Molslinjen in Ebeltoft: Færgevejen 60, 8400 Ebeltoft.
Molslinjen in Odden: Oddenvej 388, 4583 Sjællands Odde.
See what others are sharing on Instagram