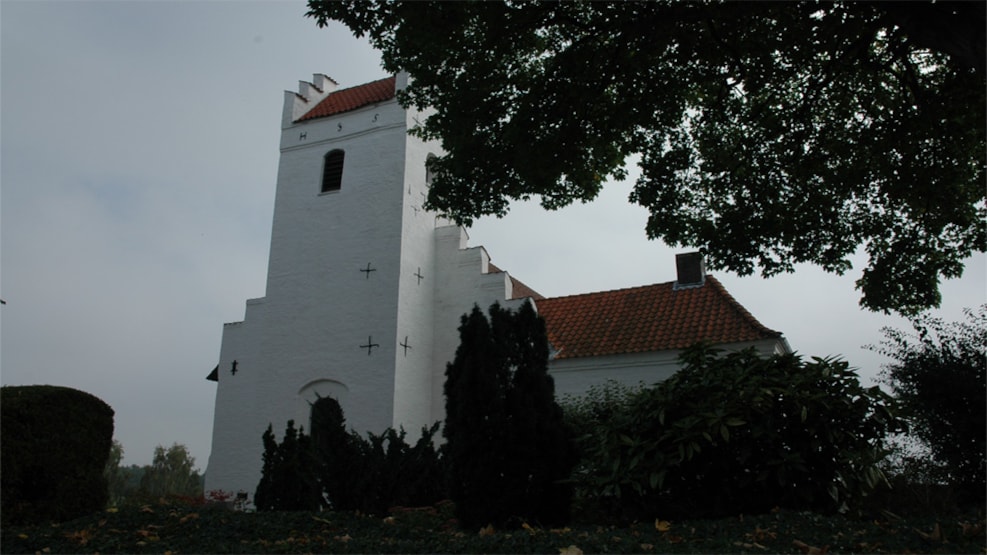 Feldballe Church
Feldballe Church, together with its surroundings, has a long and exciting history. Only a few characteristic features are to be mentioned here, but so much so that one can get an impression of the distinctive features of the place.
Many years ago, a brick-burning stove dating back to the 13th century was excavated near Langesø. Brick residues were compared to the monk stones of Feldballe Kirke, and clay samples from an area known as the Red Tombs proved that Feldballe Kirke's stones were both burnt and shaped in the parish and of the parish's raw materials.
It is also noted that the clay tombs and the brick fire had supplied the monk stone for Møllerup estate, which was built by Marshal Stig Andersen. He was thus also the builder of the church. The ship and choir must have been built before "Marsk Stig" became outlawed and banished, which happened in connection with the murder of Erik Klipping in Finderup barn. "The king was killed on his bed in St. Cecilia's night (November 22, 1286) by his own men, those he had loved most".
Under the chalk coating of the nave, there are several murals, but only the murals in the choir have been revealed. The house at the gate was formerly the first school and workhouse of the parish.
Visit the church: Open daily at 8-16