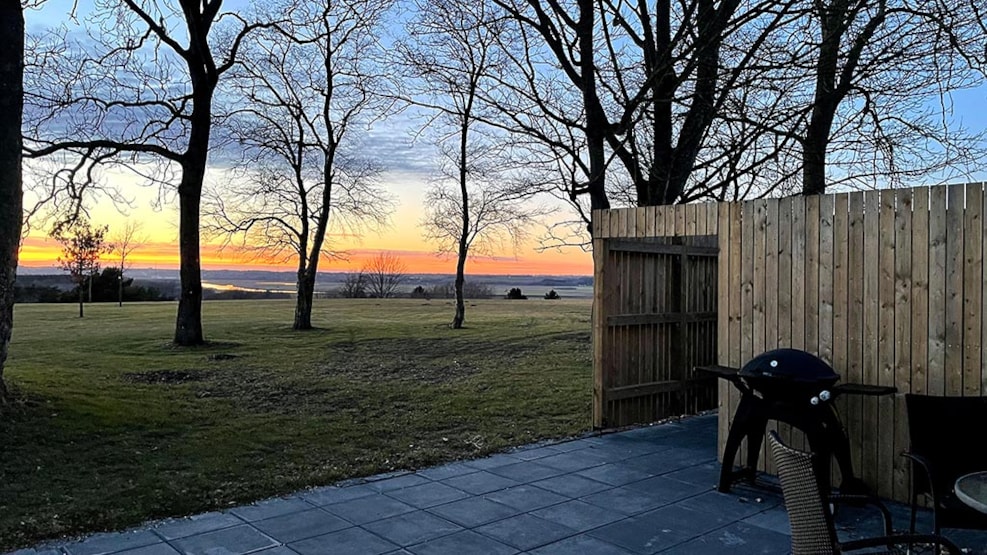 Essenbækgaard Bed & Breakfast
Essenbækgaard Bed & Breakfast offers several different room sizes, from small rooms with room for two people to larger rooms that can easily accommodate a family of four. 
Most of the rooms have their own bath and toilet and those that do not share with one other room at most. It is possible to rent two rooms and close off an area so that you can be more private.
The nature is right outside the door, but shopping is still close
The delta of Gudenåen, also known as Randers Fjord, meanders slowly by 42 metres below the farm's position. There is direct access to several walking routes right outside the door, the trip to the fjord takes about 20 minutes on foot and goes through a protected forest and over the dammed areas which lie below sea level.
In the summer, the view over the valley can be enjoyed from the dedicated terrace belonging to the Bed & Breakfast area, from here you can also enjoy the shade under the large ash and maple trees that still remain on the western side of the farm.
Even though the farm is located in a rural area, you are nevertheless located right in the middle of Assentoft village, there are approx. 900 metres to shops and the small village with approx. 3,800 inhabitants also offers both a restaurant/pizzeria, several local supermarkets and a very good butcher.
The history behind Essenbækgård
Essenbaekgaard is an old farm that formerly belonged to the manor, it lies beautifully on the Randers, the farm's history is very long, according to wikipedia the earliest mention of Essenbaekgaard is 1467 where the farm is mentioned as being located next to the church, the old church plot is today protected and lies immediately east of the farm.
The farm consists of four buildings in a square framing the courtyard and has been thoroughly renovated and modernised, in connection with the most recent major renovation, a Bed & Breakfast has been set up in the southern and western long.
Friendly reception and self check-in
You will be received by the "lady of the house" when you check in, but there is also the option of self check-in if you arrive at an odd time. There are video guides in several languages which can be viewed via a QR code to make sure that your check-in takes place properly even if you arrive after the scheduled time.